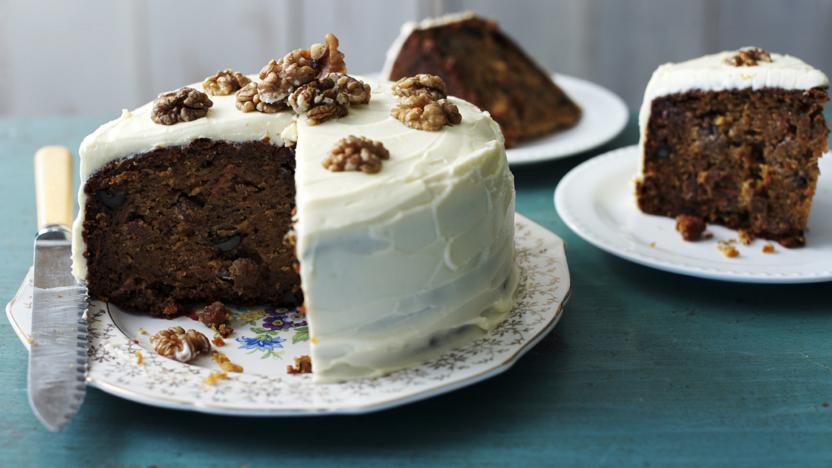 Our easy carrot cake recipe only needs one tin and two bowls – just add the wet ingredients to the dry and bake. This classic carrot cake has a touch of orange and walnuts plus the obligatory cream cheese icing. It's incredibly quick to put together, but because it is baked in a single layer, it needs to cook slowly all the way through to the centre. This results in a dense, moist carrot cake that isn't too sweet with too much icing. It will keep for several days in an air-tight tin, if you can restrain yourself.
Ingredients
For the carrot cake
For the cream cheese frosting
Method
For the carrot cake, preheat the oven to 180C/170C Fan/Gas 4. Grease and line a deep, 20cm/8in round cake tin with baking paper.

Break the eggs into a large bowl, and lightly whisk using a fork. Add the vegetable oil and whisk again. Stir in the grated carrots, raisins, walnut pieces and orange zest.

In a separate large bowl, sift together the flour, mixed spice, bicarbonate of soda and salt. Stir in the sugar. Add the wet carrot mixture to the dry ingredients and mix well to combine, making sure there are no pockets of flour.

Spoon the cake batter into the lined tin and bake on the middle shelf for 1–1¼ hours, until the cake has risen and is golden-brown all over. Remove the cake from the oven and set aside in the tin to cool for 10–15 mins, then turn the cake out and leave to cool completely on a wire rack.

While the carrot cake cools, make the frosting. Place the softened butter in a large bowl with the caster sugar, beat it for 2–3 minutes until light and creamy, then beat in the cream cheese until smooth.

Place the cake on a serving plate or cake stand. Use a palette knife, or wide flat bladed knife, to spread the frosting over the top and sides of the cake. Scatter more walnuts on the top and serve.
Recipe Tips
Before frosting, carrot cake will keep for a week and can be frozen for up to a month. Once the cake is frosted keep it chilled.