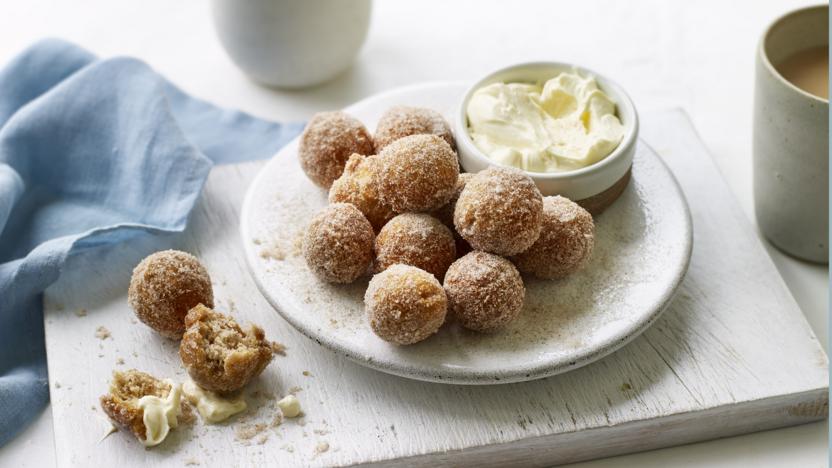 These little doughnuts are coated in cinnamon sugar and served with a lemon curd cream dip. If you like churros, you'll love these!

For this recipe you will need a cooking thermometer or a deep-fat fryer.

Ingredients
For the doughnuts
For the topping
For the lemon cream
Method
To make the doughnuts, put the flour, sugar, baking powder, cinnamon and salt in a bowl and mix well. Whisk the egg, 4 tablespoons water and a tablespoon of oil together. Add to the dry ingredients and beat well using a wooden spoon to make a smooth, thick dough.

Heat the oil to 170C in a large, wide saucepan or a deep-fat fryer. Check the temperature using a cooking thermometer. (CAUTION: hot oil can be dangerous. Do not leave unattended.)

Meanwhile, to make the cinnamon sugar topping, mix the cinnamon and sugar in a bowl.

Rub your hands with a little oil and roll the dough into 12 small balls. Using a greased spoon, drop them very gently, one at a time, into the hot oil and cook in two batches for about 4 minutes each, turning every minute or so.

While the doughnuts are cooking, make the lemon cream. Whisk together the lemon curd and cream until thick and spoon into a small serving dish.

Lift the doughnuts out of the hot oil using a slotted spoon. Drain briefly, then toss in the cinnamon sugar. Serve warm alongside the lemon cream.
This recipe is from...
Recipes from this episode