Churros with peaches and custard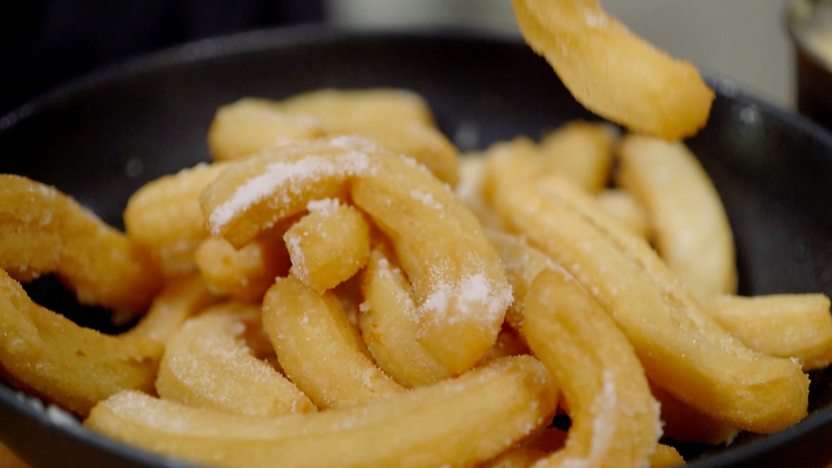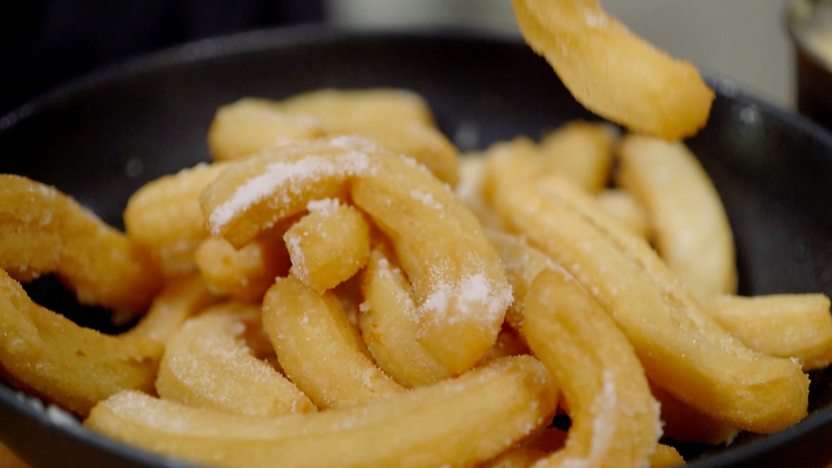 This delicious dessert combines caramelised peaches, comforting vanilla custard and naughty but nice churros.
Ingredients
For the custard
For the peaches
For the churros
Method
For the custard, whisk the egg yolks and half of the sugar in a bowl until pale and thick.

Bring the milk and cream slowly to the boil with the remaining sugar and vanilla seeds, stirring well.

When the milk is just boiling and the sugar has dissolved, pour the mixture over the egg mixture, whisking continuously until well combined.

Return the mixture to the same pan and cook over a gentle heat, whisking occasionally, until the custard thick enough to coat the back of a wooden spoon. Strain into a bowl and set aside.

For the peaches, heat 50ml/2fl oz water with the butter and sugar in a lidded frying pan over a medium heat, until the butter has melted and the sugar has dissolved. Add the peaches and basil, then cover and cook for 5-10 minutes, or until tender but still intact and caramelised on the bottom. Transfer to a serving dish, arranging them with the caramelised sides facing upwards.

For the churros, heat the oil in a deep-fat fryer to 150C. Alternatively, heat the oil in a deep, heavy-based saucepan until a breadcrumb sizzles and turns golden-brown when dropped into it. (CAUTION: Hot oil can be dangerous. Do not leave unattended.)

In a separate saucepan, bring 250ml/9fl oz water to the boil with the sugar and butter. When the mixture is boiling, remove the pan from the heat, add the flour and baking powder all in one go and immediately start beating until the mixture comes together as a smooth batter. Beat in the egg until the batter is smooth and shiny.

Fit a piping bag with a large, star-shaped nozzle. Fill the piping bag with half of the batter and pipe short lines of it directly into the hot oil, taking care to keep your face as far away from the pan as possible. To cut the batter, carefully dip a metal pair of scissors into the hot oil, then snip through the batter as you pipe it.

Cook the churros, in batches, for 5-6 minutes, or until golden-brown and crisp, then remove and drain on kitchen paper. Repeat the process with the remaining batter, then dust all of the churros with caster sugar.

To serve, spoon the custard over and around the peaches, with the churros piled alongside on a plate.
Recipe Tips
If your batter has large air bubbles, if your oil is too hot, or if you drop a churro from too high into hot oil you might get splashes, popping oil, or churros that burst. Keep children away while they cook and protect yourself by wearing long sleeves and keeping your face away from the pan.
This recipe is from...
Recipes from this episode