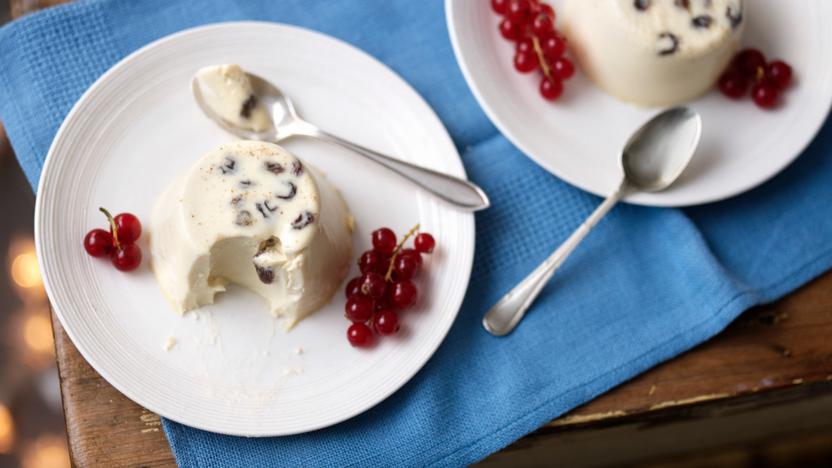 This easy, creamy dessert is less dense than a traditional pudding but still packed with Christmas spices.
Method
Place the raisins into a small bowl and cover with the rum. Set aside to soak for at least 30 minutes.

Meanwhile, soak the gelatine sheets in a bowl of cold water until softened. Drain and squeeze out any excess liquid using your hands.

In a heavy-based pan, heat the double cream, sugar and ground spices. Bring to the boil, then reduce the heat until the mixture is simmering and simmer for 2-3 minutes, whisking until the sugar has dissolved.

Remove the cream mixture from the heat and whisk in the drained gelatine until dissolved. Drain the raisins and stir into the cream mixture (discard the soaking liquid).

Pour the mixture into ten 200ml/7fl oz moulds or ramekins, filling them to three-quarters full. Set aside to cool completely, then cover with cling film and chill in the fridge for at least two hours, or until set.

To serve, dip the ramekins briefly into hot water to loosen each panna cotta and turn out onto serving plates. Scatter over some redcurrants to garnish.
Recipe Tips
If money - or trousers! - are a little tight this Christmas, replace half of the cream with milk.