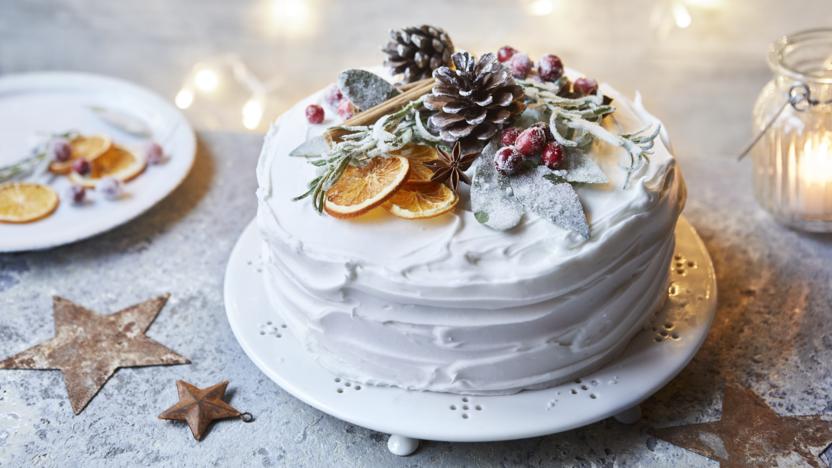 Five simple steps for how to cover your cake in marzipan and royal icing. Watch the technique videos for more information and see the recipe tips (below) for how to create the simple Christmas decorations in the photo.

This recipe makes enough for a 18cm/7in round cake or a thin covering on 18cm/7in square cakes and 20cm/8in round cakes.
Ingredients
For the royal icing
Method
Place the cake on a foil board or cake plate.

Dust your hands and the work surface with a little icing sugar and knead the marzipan until soft. Roll out half the marzipan to fit the top of the cake and roll out the rest in strips to fit around the sides of the cake.

Brush the cake all over with the warmed apricot jam and then place the marzipan on top and around the cake. Trim away any excess marzipan. Cover the cake with a clean tea towel and then leave in a cool place for at least one day.

To make the icing, lightly whisk the egg whites adding the sugar at intervals. Beat well until the icing forms soft peaks when the whisk is removed. Add the glycerine, if using, and the lemon juice.

Spread the icing all over the cake. You can either spread it quite casually, work it into little peaks or spread it flat and smooth using a clean ruler or icing spreader. Leave to dry before decorating with Christmas ornaments.
Recipe Tips
The glycerine will result in a softer set on your icing, which is nicer to eat and cut. However, there are occasions when a hard set is desireable (for instance if you wish to store the cake for a long time or you want a really hard smooth set on the icing so you can pipe decorative finishes over the top) and then you should omit the glycerine.
The cake decorations in the image are whole spices (cinnamon sticks and star anise) and cake decorator's pine cones paired with dried citrus slices and frosted fruits and herbs. Frosting is easy to do at home: simply cover your chosen fruits or herbs (we used cranberries, bay leaves and rosemary) with egg white or a sugar syrup, leave to dry for a few minutes (just until it feels tacky), then dust with granuated sugar and leave to dry completely.
You can buy dried citrus slices or dry your own (place the orange slices on a rack in an oven on its lowest setting for about 2 hours. Alternatively, if you have a woodburner, place them on a rack near the fire and let them dry out that way).