Christmas turkey crown with bacon lattice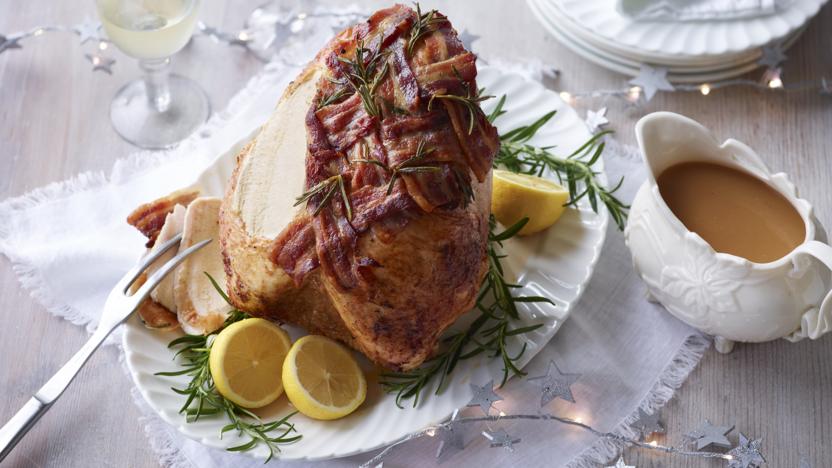 My Christmas turkey crown is perfect for a smaller gathering; it's easy to carve, too. You can buy the crown on or off the bone: I prefer it on the bone as it gives more flavour and helps the crown stand upright.

For this recipe you will need a large, deep roasting tin with a rack that fits in it (to sit the turkey on).
Method
Preheat the oven to 220C/200C Fan/Gas 7.

Mix the butter, paprika and lemon zest in a small bowl, seasoning with salt and pepper.

Pat the turkey skin dry using kitchen towel. Spread the butter mixture all over the breasts. Weave the bacon slices in a lattice pattern on top of the butter. Snip tiny sprigs of rosemary from the stalk and poke them through the bacon lattice into the breast skin, at random intervals.

Scatter the leek slices in a large, deep roasting tin and pour over the stock and wine. Put a rack on top, sit the turkey crown on the rack and cover loosely with foil. Roast for 1 hour.

Remove the foil and roast for a further 30 minutes, or until the turkey is golden-brown and cooked through. To test, insert a skewer into the thickest part of the meat – if the juices run clear, the bird is cooked. Transfer the turkey to a board, cover with kitchen foil and towels, and rest for at least 20 minutes (and up to an hour). Reserve the roasting tin for making the gravy later.

Strain the leeks, wine and stock through a sieve into a large jug. Discard the leeks.

To make the gravy, skim off the fat from the top of the jug. Put about 3 tablespoons of the fat into the roasting tin. Put the tin over a medium heat and sprinkle in the flour, whisking until smooth. Gradually pour in the liquid from the jug, whisking continuously to make a smooth gravy. Whisk in the redcurrant jelly, Worcestershire sauce, gravy browning and any juices from the resting turkey, check the seasoning and pour into a serving jug.

Carve thin slices of turkey and serve with the gravy.
Recipe Tips
Resting is important: it allows the juices to settle and therefore stops the meat from drying out.
To make the gravy, use a small balloon whisk, continuously whisking as the liquid is added, otherwise it may become lumpy.
Carve using a sharp, long-bladed knife, ideally taking thin slices lengthways either side of the breast bone.
Turkey crowns can be purchased with or without the wings. The wings can help the crown sit better in the roasting tray and are useful for making gravy. Supermarket turkeys rarely include the wings, so you'll probably need to buy yours from a butcher if you want them.
This recipe is from...
Recipes from this episode