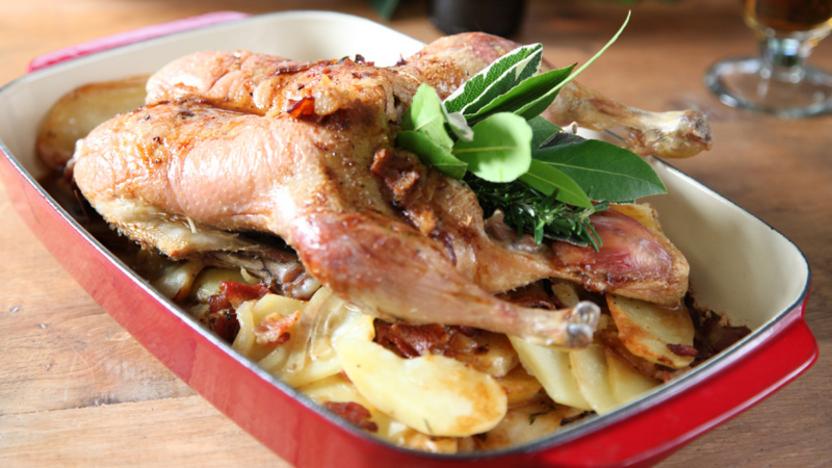 Duck is a really tasty alternative to turkey for Christmas lunch, or even a New Year's supper. Roasting the bird on top of the potatoes doesn't just make things easy, the real point is that the potatoes absorb some of the duck fat, making them very tasty indeed.
Method
Preheat the oven to 200C/400F/Gas 6.

Cut the bacon into postage stamp size pieces and fry directly in the roasting tin with a little oil. Add thinly sliced discs of the potatoes, scatter over the sliced onion and tear in the thyme. Fry altogether till the bacon crisps up and the potatoes start to warm through.

Onto this base lay the duck, stuff it with the bay leaves and roast for 60-90 minutes. Check the duck for doneness. Its juices should be clear without any trace of blood. Remove the tin from the oven, turn the heat up to 220C/425F/Gas 8, and place the duck and potatoes into a new tin or onto a heatproof serving plate, then return it to the oven whilst you make the gravy.

Put the original roasting tin on the heat and pour in the Madeira. With a wooden spoon dislodge all the crisp caramelised sediments and stir them in to make the gravy. Serve the duck and potatoes with the gravy.