Christmas apple and mincemeat crumble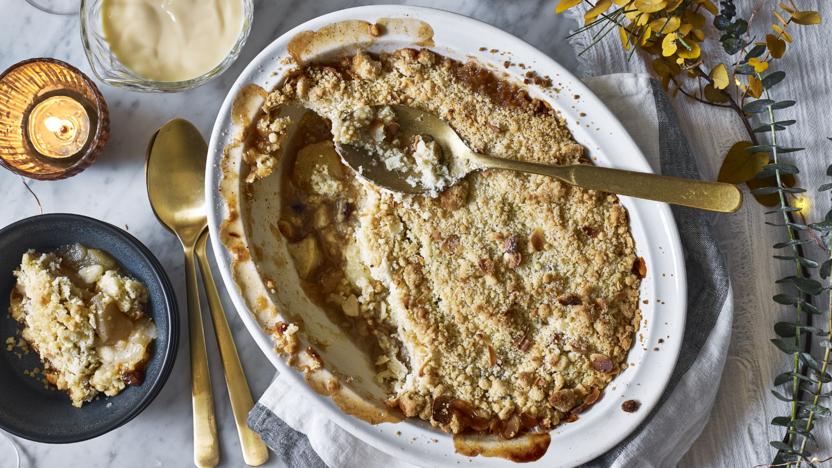 This twist on the apple crumble is a great way to use up Christmas marzipan and the jar of mincemeat you have leftover post-Christmas. Let's get ready to crumble.


Ingredients
For the crumble
To serve
Method
Preheat the oven to 180C/160C Fan/Gas 4.

Peel, quarter and core the apples and pears. Cut the fruit into bite-size pieces and put in a large bowl. Squeeze over the lemon juice and toss the fruit well to coat in the juice.

Add the mincemeat, caster sugar, ground cinnamon and nutmeg to the fruit and mix again.

Cut the marzipan into small dice the size of a raisin and stir into the mixture. Tip into an ovenproof dish, spread evenly and cover with foil. Bake on the middle shelf for 10 minutes while you make the crumble.

For the crumble, tip the plain flour into a large mixing bowl, add the cold, diced butter and a pinch of salt. Using your fingertips rub the butter into the flour until the crumble starts to look like sand.

Continue rubbing in until the crumble starts to form clumps. Add the sugar and flaked almonds and mix again to combine.

Scatter the crumble over the fruit in an even layer. Return to the oven, uncovered and cook for 45 minutes, or until the fruit is bubbling and the crumble is golden-brown.

Serve with homemade custard or brandy cream.