Chocolate tart with white chocolate sauce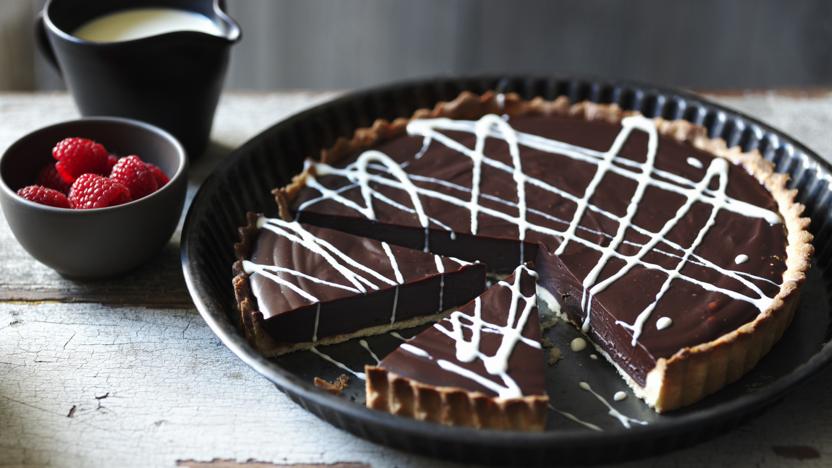 A superbly rich chocolate tart served with a sweet white chocolate sauce and raspberries. A brilliant make-ahead dinner party dessert.
Ingredients
For the pastry
For the filling
For the sauce
Method
For the pastry, place the flour, salt and butter into a food processor and pulse until the mixture resembles breadcrumbs.

Add the egg yolks and sugar and pulse until the mixture comes together to form a dough. You may need to add a splash of ice cold water if the pastry is too dry. Place into a bowl, cover the bowl with cling film and chill in the fridge for 30 minutes.

Preheat the oven to 200C/400F/Gas 6.

Roll the dough out on a lightly floured surface until large enough to line a 25cm/10in fluted tart tin. Place into the tin, then place a piece of greaseproof paper on top and weigh it down with baking beans or rice.

Place into the oven for 15 minutes, then remove the paper and beans and return to the oven for five minutes, or until lightly browned.

Meanwhile, for the filling, bring the cream, vanilla extract and sugar slowly to the boil in a pan.

Break the chocolate and butter into pieces and place into a large bowl. Pour over the cream mixture and whisk slowly until the chocolate has melted and the mixture is smooth.

Pour the chocolate mixture into the tart case and leave to cool. Place in the fridge to set for two hours.

For the sauce, place half of the cream and the vanilla pod into a pan and heat until the mixture is warm but not too hot when touched with a finger. Take off the heat and remove the vanilla pod.

Add the white chocolate and stir until melted. Stir in the remaining cream.

To serve, cut the tart into wedges and drizzle over the white chocolate sauce. Serve with raspberries and a sprig of mint.
Recipe Tips
If you're short of time forgo making your own pastry and buy a ready-made pastry case (available from most supermarkets).