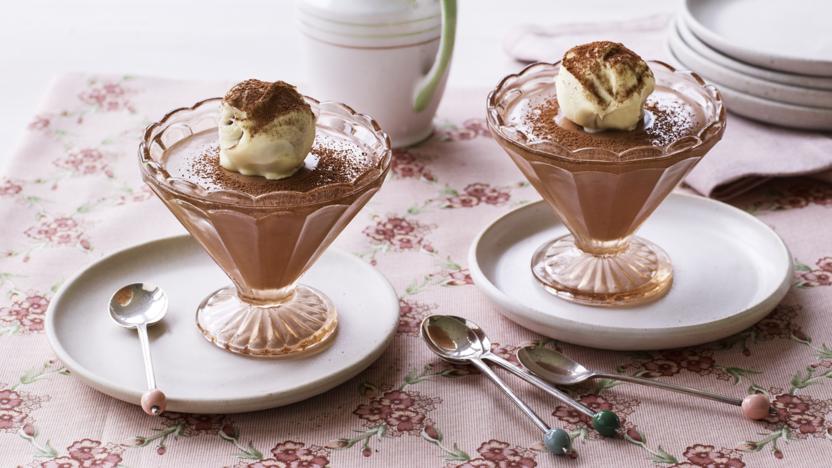 Mary Berry's chocolate truffle pots are perfect who want an after dinner chocolate to last longer.



Ingredients
For the chocolate truffles
Method
Whizz the chocolate in a food processor.

Put the sugar and 6 tablespoons of water in a small saucepan and heat gently, stirring, until the sugar has dissolved. Boil for a few seconds until it becomes a thin syrup.

Set the food processor running and pour the hot syrup through the funnel on to the chocolate so it melts. Add a little boiling water if some unmelted chocolate remains. Add the egg yolks and process for a few seconds before adding the Irish cream liqueur.

In a separate bowl, whip the cream until soft peaks form, then fold in the chocolate mixture. Reserve 3 tablespoons of mousse in a small bowl. Spoon the remaining mousse into small glasses or pots. Leave in the fridge to set for 6 hours or overnight.

To make the chocolate truffles, add the crushed biscuits to the reserved mousse with a splash of Irish cream liqueur. Mix well and shape into six truffle-size balls. Put on a plate in the fridge for 30 minutes.

Melt the white chocolate in a small heatproof bowl over a pan of gently simmering water, making sure the bowl doesn't touch the water. Insert a cocktail stick into the balls, dip into the melted white chocolate and swirl around until coated. Put on a piece of baking paper, and place in the fridge for 30 minutes, or until firm.

Place one truffle on top of each mousse before serving and dust with cocoa. Serve straight from the fridge.
Recipe Tips
Buy the truffles if you're short of time. These can be made up to a day ahead, but be sure to serve straight from the fridge – they will become runny if left at room temperature. They also freeze well.
This recipe is from...
Recipes from this episode