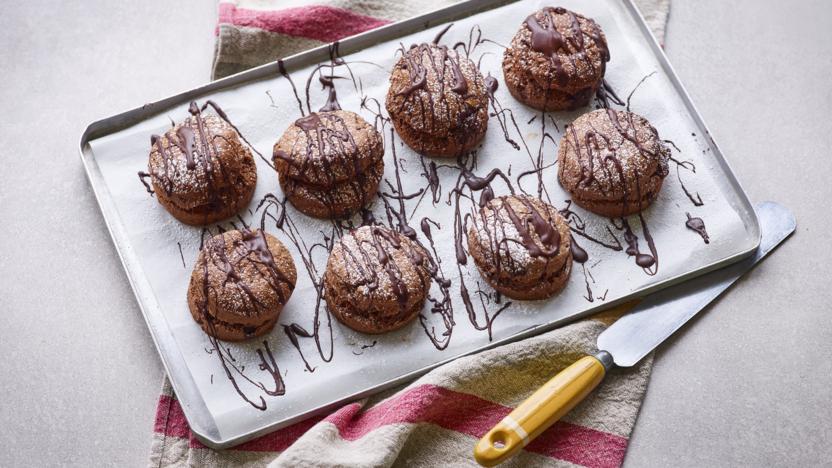 What could be better than a plate of freshly baked scones? Scones with chocolate in! This simple recipe has cocoa powder and chocolate chunks in the dough and more melted chocolate drizzled on top. Heaven.



Method
Preheat the oven to 200C/180C Fan/Gas 6. Line a baking tray with baking paper.

Blend the flour, cocoa powder, butter and sugar together briefly in a food processor until they resemble coarse breadcrumbs, then add the milk and blitz to a smooth dough. You can also do this by hand by rubbing the butter into the dry ingredients in a large bowl before adding the milk and mixing with a spoon then hands to form a dough. Tip the dough out onto a clean work surface dusted with flour and sprinkle over the roughly chopped chocolate. Gently knead them into the dough then roll the dough out to around 2.5cm/1in thick.

Use a 7cm/ 2¾in biscuit cutter to cut out 8 rounds of the dough, re-rolling the dough as needed. Place the rounds on the prepared baking tray, brush the tops with milk and bake for 15 minutes, or until well risen and nicely browned.

Place the remaining chocolate in a heatproof bowl over a pan of just-boiled water and leave to melt for 3–4 minutes, making sure the bowl doesn't touch the water.

Arrange the warm scones on a serving plate, drizzle with the melted chocolate and leave for 30–40 minutes. Serve with your choice of marmalade or jam and whipped or clotted cream.
Recipe Tips
For a vegan version of these scones, make with a plant-based milk and vegan spread. Serve with jam and whipped plant-based cream.
Any scones that aren't eaten the same day, can be stored in a lidded container and warmed through for a few seconds in the microwave before serving.
This recipe is from...
Recipes from this episode