Chocolate reflection cake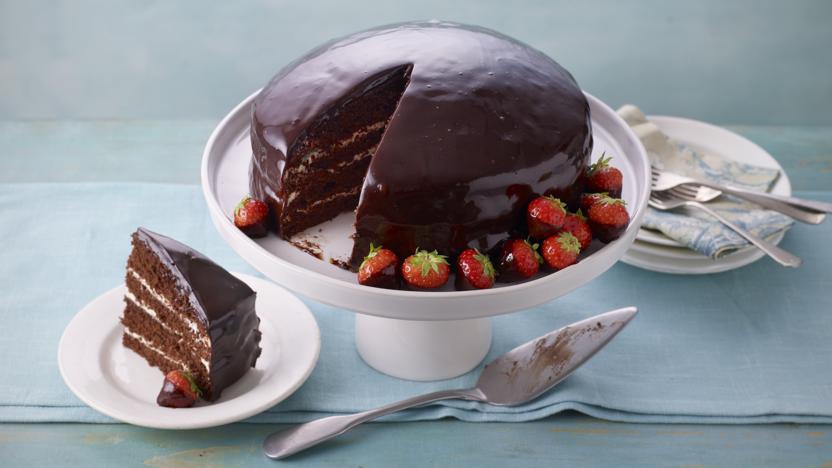 A dazzling cake that's perfect for any celebration. The cake itself is easy to make, so you can put your efforts into the icing glaze.

Equipment: You will need 2 loose-bottomed cake tins, 20cm/8in wide.

Ingredients
For the icing
To decorate
Method
Preheat the oven to 180C/160C Fan/Gas 4. Line the base of two 20cm/8in loose-bottomed cake tins with baking paper and grease the sides with baking spread.

Sieve the cocoa powder into a large mixing bowl. Add the water and stir until you have a smooth paste. Add the remaining ingredients. Whisk together using an electric hand whisk until light and fluffy. Spoon into the two tins and level the tops.

Bake for 20–25 minutes, until well risen and coming away from the sides of the tins. Transfer to a wire rack to cool.

To make the icing, put the gelatine leaves in a shallow bowl of cold water for 5 minutes until soft.

Put the sugar, cocoa powder, cream and 125ml/4fl oz water into a saucepan over a medium heat. Stir until melted, then bring up to the boil and stir until smooth. Remove from the heat and stir in the chocolate. Leave to cool for 5 minutes.

Squeeze any liquid from the gelatine leaves and stir into the chocolate mixture until dissolved. Pour through a sieve into a bowl and leave to cool and thicken in the fridge for about an hour, until it reaches the consistency of thick mayonnaise.

Slice each cake in half horizonatally. Put one cake half on a wire rack and smooth a layer of whipped cream on top. Continue this process so you have four layers of cake and three layers of cream. Press the cakes down between each layer so the cream comes right to the edges and the cakes are level at the sides. Smooth around the edges with a palette knife so the excess cream very lightly covers the sides and gives a smooth edge.

Gently warm the apricot jam and brush lightly over the cake, covering the sides and top. Chill in the fridge for 15 minutes.

Put about 100ml/3½fl oz of the icing in a heatproof bowl and gently melt over a pan of simmering water. Dip half of each strawberry in the melted icing. Put on baking paper to set.

Once the cake has finished cooling in the fridge, transfer to a wire cooling rack placed on a large baking tray to catch any excess glaze as you pour it over the cake. Pour the remaining icing over the cake and smooth over the top and sides. Be very careful doing this, you want a smooth shiny icing. Leave for an hour or so to set. Arrange the glazed strawberries around the bottom edge of the cake.
Recipe Tips
The cake can be made and iced up to a day ahead and kept in the fridge.
This recipe is from...
Recipes from this episode