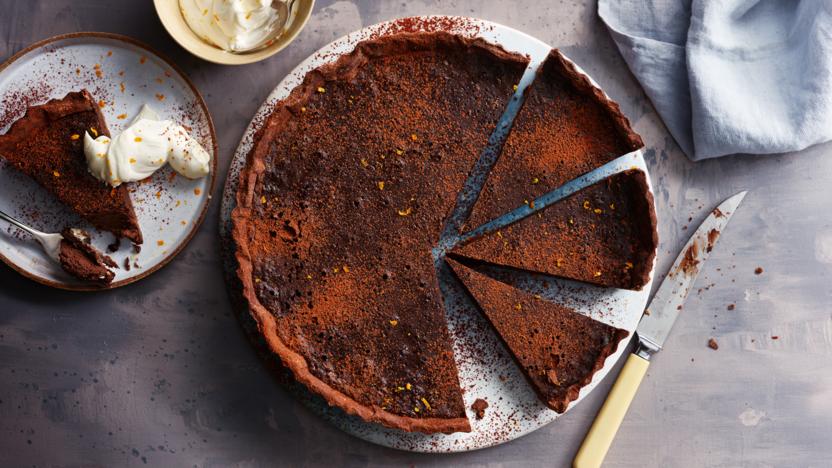 This chocolate tart has orange all the way through – in the chocolate pastry, the filling and the zest flecked through the whipped cream. Serve it chilled or warm.

Ingredients
For the chocolate pastry
For the filling
For the triple sec cream topping
Method
For the pastry, sift the flour, cocoa powder and icing sugar into the bowl of a food processor. Add the orange zest and chilled butter and blitz until the mixture resembles fine breadcrumbs. (Alternatively, rub the butter into the dry ingredients using your fingertips.) Add the egg and use your hands to bring the dough together until it forms a smooth ball. If it is still crumbly, add one or two drops of water, being careful not to overdo it. Flatten the ball, wrap in cling film and refrigerate for 30 minutes until well chilled, but still pliable.

Preheat the oven to 200C/180C Fan/Gas 6.

Dust your work surface lightly with flour. Roll out the pastry to about 3mm/⅛in thick and use to line a 24cm/9½in round fluted loose-bottomed tart tin. Cover and chill for 15 minutes. Prick the base of the pastry all over with a fork, line with baking paper, fill with baking beans and blind bake for 20 minutes. Remove the paper and beans and bake for a further 5 minutes, or until the pastry is cooked through and biscuity.

For the filling, put the cream and orange zest in a saucepan and cook over a medium heat until barely simmering. Add the dark and milk chocolate, vanilla and triple sec and stir until the chocolate has melted. Remove from the heat. Add the beaten eggs and immediately begin whisking very quickly until the mixture is smooth and thick. It is important you don't delay here, otherwise the eggs will scramble and the mixture will not be smooth.

Pour the mixture into the baked tart shell and bake for 12 minutes, or until just set. Remove from the oven and leave to cool completely, then refrigerate for at least 1 hour or until well chilled. Alternatively, the tart can be served warm.

For the triple sec cream topping, put the cream, orange zest and liqueur in a bowl and whisk until soft peaks form when the whisk is removed. Slice the tart and serve with a dollop of the cream and a dusting of cocoa.