Chocolate orange biscuits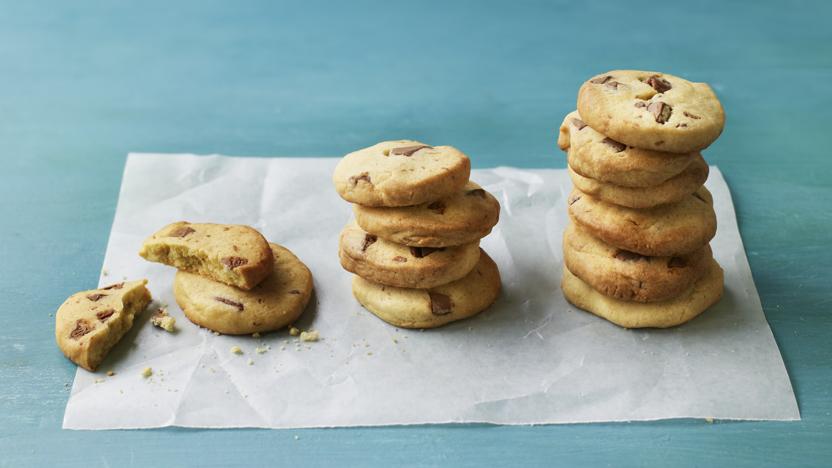 These chocolate orange biscuits are quick and simple to make with kids. You can use this recipe to teach children cooking skills, including creaming butter and sugar, weighing, grating and mixing. It's also great for teaching basic division skills, as the biscuit mixture is divided into 4 and then divided again into 6 to make 24 biscuits.

If you're making this recipe with children, see the tips section for advice on kitchen safety.
Method
Preheat the oven to 180C/160C Fan/Gas 4. Grease two baking trays with a little butter.

Put the butter in a bowl and beat with a wooden spoon or electric hand whisk until soft. Add the sugar and beat again until very creamy. Beat in the egg until combined.

Stir in the orange zest, chocolate and flour. Use your hands to make the dough into a ball.

Divide the dough into quarters and roll each quarter into a sausage shape, about 10cm/4 inches long and 4cm/1½ inches wide. Slice each log into 6 equal pieces; you will have a total of 24 biscuits. Make sure each biscuit is a circle shape, then press it down slightly with your hands and place it on the prepared baking trays.

Bake for 10–12 minutes, or until golden-brown around the edges. Use a palette knife to lift the biscuits onto a cooling rack and leave to cool.
Recipe Tips
If making with children, here are some tips to help them cook safely:
To grate the orange, hold the handle of the grater with one hand and then push the orange downwards over the grater 'teeth'. Always keep fingers away from the grater 'teeth', as they are very sharp.
Always supervise children when using knives and, if preferred, break up the chocolate by hand instead.
Make sure children always wear thick oven gloves when transferring food to and from the oven. It may be best for the adult to do this step.
Allow the biscuits to cool slightly before handling, as they will be very hot from the oven.
More tips for making the best biscuits:
If a bit of shell goes into the bowl when cracking the egg, fish it out with the egg shell or a teaspoon.
Make sure to cream the butter and sugar together really well at the beginning, adding air to the mixture to help to keep the biscuits light and crisp.
Chocolate and orange is a winning flavour combination, but you could also add a teaspoon of vanilla extract or mixed spice in place of the orange zest. Swap the chocolate for dried fruit, for another twist. You're in charge of your own creation!