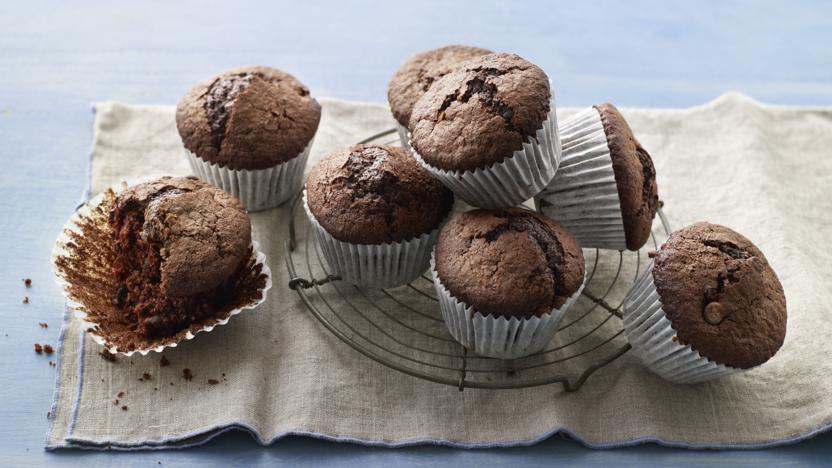 The beauty of this double chocolate muffin recipe is that the chocolate chips are slightly hidden so each explosion of chocolate is a delightful surprise.

For this recpe you will need a 12-hole muffin tin with paper cases.
Method
Preheat the oven to 190C/170C Fan/Gas 5 and line a 12-hole muffin tin with paper cases.

Chop the dark chocolate into 1cm/½in pieces and tip 50g/1¾oz into a heatproof mixing bowl with the butter. Set aside the remaining chocolate.

Melt the chocolate and butter over a pan of barely simmering water, making sure the bottom of the bowl doesn't touch the water, and stir until smooth. Remove from the heat and cool slightly.

Sift the flour, cocoa, bicarbonate of soda and a pinch of salt into a large mixing bowl, add both of the sugars, mix to combine and make a well in the middle of the dry ingredients.

Lightly whisk together the eggs, buttermilk, sunflower oil and vanilla and pour into the mixing bowl. Add the melted chocolate and butter and beat until just combined. Fold in the remaining chopped chocolate and the chocolate chips.

Divide the mixture between the muffin tin cases and bake for about 20 minutes, or until well risen and a wooden skewer inserted into the middle of the muffins comes out with a moist crumb attached.

Leave to cool in the tin for 5 minutes, then transfer to a wire rack to cool completely.
Recipe Tips
Make sure these chocolate chip muffins rise to the occasion by adding the wet ingredients to the dry ingredients at the last minute.