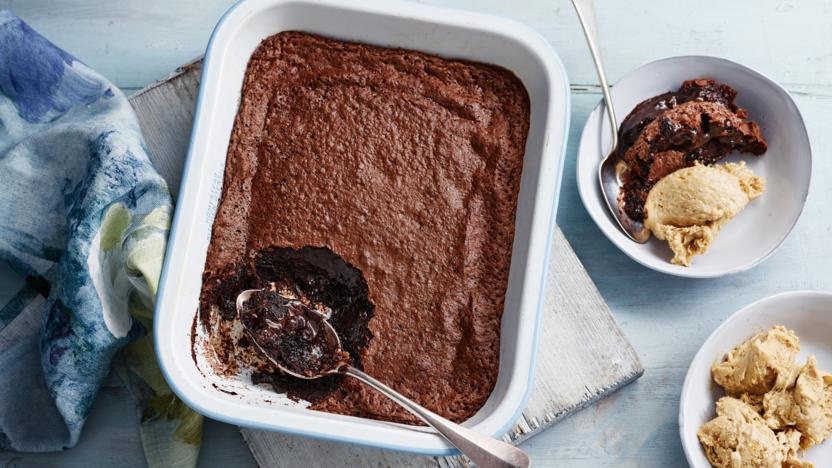 Donal's gloriously gooey chocolate lava cake is a big version of the molten chocolate fondant and comes with easy peanut butter no-churn ice cream.
Ingredients
For the chocolate lava cake
For the ice cream
Method
Preheat the oven 180C/160C Fan/Gas 4. Grease a 20-25cm/8-10in baking dish with a little butter.

For the cake, melt the butter in a saucepan. Remove from the heat and gently stir through half the chocolate until melted.

In a mixing bowl, whisk the eggs and sugar until they become pale and thick. Pour in the chocolate mixture, then sift in the flour. Add the remaining chocolate and using a spatula, fold the mixture together until it is evenly combined. Pour into the prepared dish.

Bake for 20 minutes. When cooked, the pudding should be slightly firm around the sides but the centre should still be wobbly.

Meanwhile, for the ice cream. Melt the butter in a frying pan, add the breadcrumbs and cook until golden-brown. Set aside to cool.

Put the bananas and peanut butter in a food processor and mix until smooth and creamy. Put in a bowl with the breadcrumbs and fold through.

Serve the lava pudding immediately with the ice cream.