Chocolate fondants with almond brittle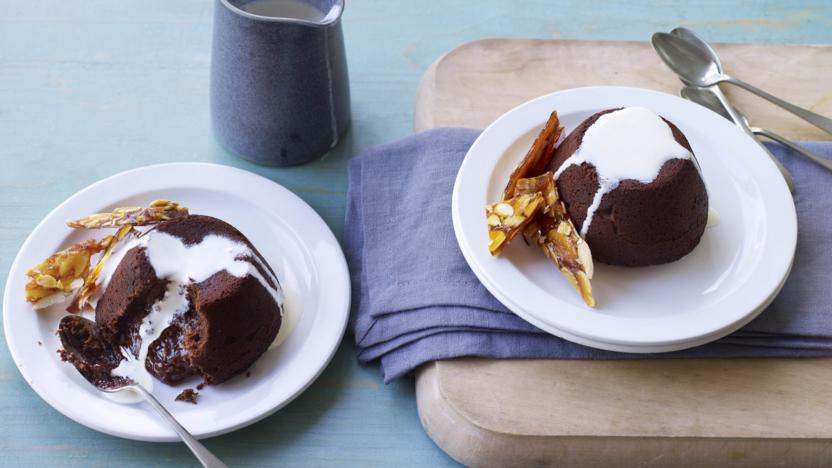 Deceptively simple, this dessert, but it's utterly thrilling when that first spoonful releases the molten chocolate centre.

Equipment and preparation: You will need 4 x dariole moulds.
Ingredients
For the almond brittle
For the chocolate fondants
Method
To make the almond brittle, preheat the oven to 200C/180C Fan/Gas 200. Spread the flaked almonds evenly out on a baking tray lined with baking paper and toast in the oven for 5 minutes, until light golden-brown. Check them regularly and stir if necessary. Set aside.

Heat the sugar in a frying pan over a low heat without stirring until it has melted. When the caramel has turned golden-brown, carefully pour over the almonds to coat and leave to cool. (CAUTION: Caramel is very, very hot. Handle with care.) Once cold, break the caramel into shards.

Preheat the oven to 200C/180C Fan/Gas 6.

To make the chocolate fondants, brush the dariole moulds with melted butter in an upwards direction. Dust each mould with cocoa powder, to coat.

Melt the chocolate and butter together in a heatproof bowl set over a pan of gently simmering water (do not let the bottom of the bowl touch the water). Stir until the mixture is melted and thoroughly combined. Remove the bowl from the heat and allow to cool for around 10 minutes.

In a separate large bowl, whisk the eggs and sugar with an electric hand whisk until pale and thickened. Pour the melted chocolate into the egg mixture and fold to combine. Sift in the flour and fold it in.

Divide the mixture equally between the moulds. Place the fondants on a baking tray and bake for 8 minutes, or until the tops have formed a crust and they are just beginning to come away from the sides of their moulds. Leave to sit for 2 minutes before turning out.

Decorate each fondant with a few shards of almond brittle and serve with thick double cream.