Chocolate chip cookie dough pots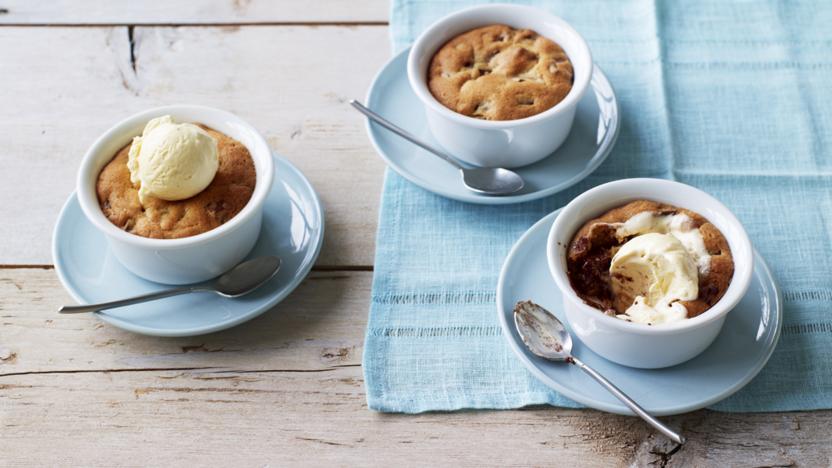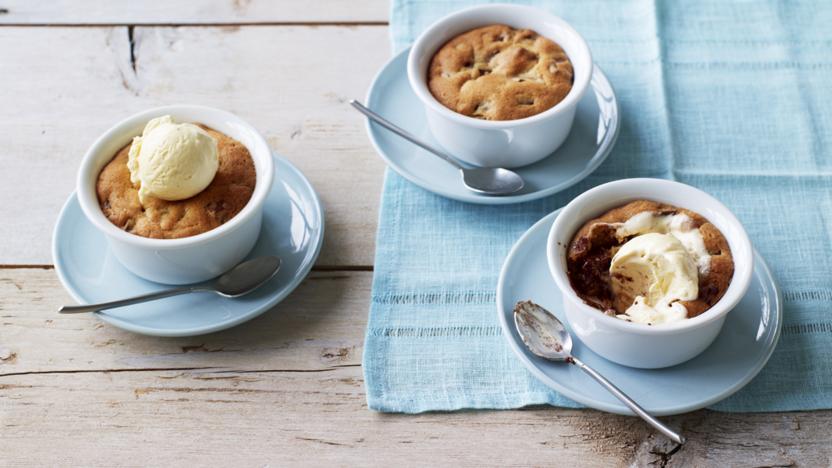 My children love a chocolate chip cookie so gooey on the inside that I can't really make the outside firm enough to let the cookies keep integrity of form. This, then, is the solution: a cookie dough you bake in a little dish, and then eat with a spoon, dolloped with ice cream or crème fraîche as desired.

For this recipe you will need 6 ramekins approximately 8cm/3¼in diameter x 4½cm/1¾in deep (approximately 200ml/7fl oz capacity)

Method
Preheat the oven to 180C/160C Fan/Gas 4.

Measure the flour, salt and bicarbonate of soda into a bowl, forking together to mix.

With an electric mixer, or by hand, beat the butter and sugar until you have a light and creamy mixture, then add the vanilla paste or extract and the egg, beating again to incorporate.

Gently fold in the flour mixture, then, once it's all mixed in, fold in the chocolate chips.

Divide the dough between 6 ramekins (you will need about 4½ tablespoons of batter for each one). Using a small offset spatula or the back of a teaspoon, spread the mixture to cover the bottom of the ramekins, and smooth the tops.

Place the ramekins on a baking sheet and bake in the oven for 13–15 minutes. They will still be quite gooey inside, but the top will be set, and they should be golden brown at the edges and just beginning to come away from the sides of the ramekins.

Leave to cool for 5–10 minutes before serving. You can spoon a scoop of ice cream on top of each one or serve with cream or crème fraîche on the side. They will set as they cool down, so don't dally now.
Recipe Tips
If you don't own any ramekins, or similar, know that you could just use a pie dish; I used one that measures 20cm/8in diameter at the base and 24cm/9½in diameter at the lip, and it needed 5 minutes' longer cooking time. But the ramekins give you a better goo-to-crust ratio, and that's what these are all about.
These can be made up to 6 hours ahead, then covered with clingfilm and stored in fridge. Allow to come up to room temperature before baking.
To freeze, wrap each ramekin tightly in a double layer of clingfilm and put in resealable bags or wrap each in a layer of foil. Freeze for up to 3 months. Bake directly from frozen, adding an extra 2 minutes to the baking time.
This recipe is from...
Recipes from this episode