Chocolate orange cheesecake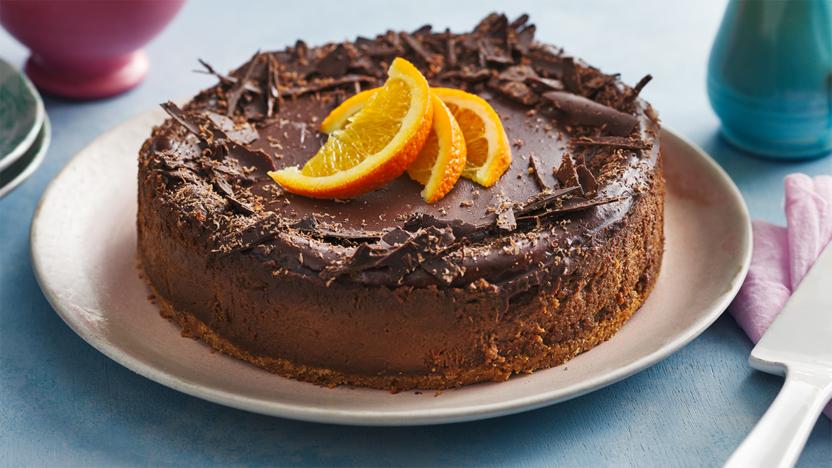 This decadent baked cheesecake is a chocolate-lovers dream! Remember to give yourself a day to make it, as it needs to set overnight.

Equipment and preparation: You will need 1 x 20cm/8in spring form tin.
Ingredients
For the cheesecake
For the glaze
Method
Preheat the oven to 170C/150C Fan/Gas 3. Grease and line the base of a 20cm/8in spring form tin with buttered baking paper.

Melt the butter, then mix with the crushed biscuits. Tip the mixture into the prepared tin and press into an even layer over the base. Bake on the middle shelf of the oven for 4–5 minutes, or until firm.

Melt the chocolate in a heat-proof bowl over a pan of barely simmering water or in the microwave on a low heat. Stir until smooth, then leave to cool slightly. Melt the marmalade in a small pan over a low heat or in the microwave. Stir until smooth.

In a large mixing bowl, whisk the cream cheese with the sugar until smooth. Add the eggs, soured cream and cornflour, and whisk again to bring everything together. Add the melted chocolate, marmalade and orange zest and mix again until thoroughly combined.

Carefully pour the mixture into the tin on top of the biscuit base, place on a solid baking tray and bake on the middle shelf of the oven for about 50 minutes, or until the edges of the cheesecake are firm and the middle is just set. Remove from the oven and leave the cheesecake to cool to room temperature. Cover and chill in the fridge overnight.

To make the glaze, combine the chocolate, butter, milk and honey in a small saucepan and melt over a low heat, stirring until smooth. Cool for 3 minutes before pouring the glaze over the cheesecake in an even layer. Allow the glaze to set before serving.
Recipe Tips
You could further garnish with chocolate curls and orange segments, and even a bowl of lightly whipped cream if you wanted!