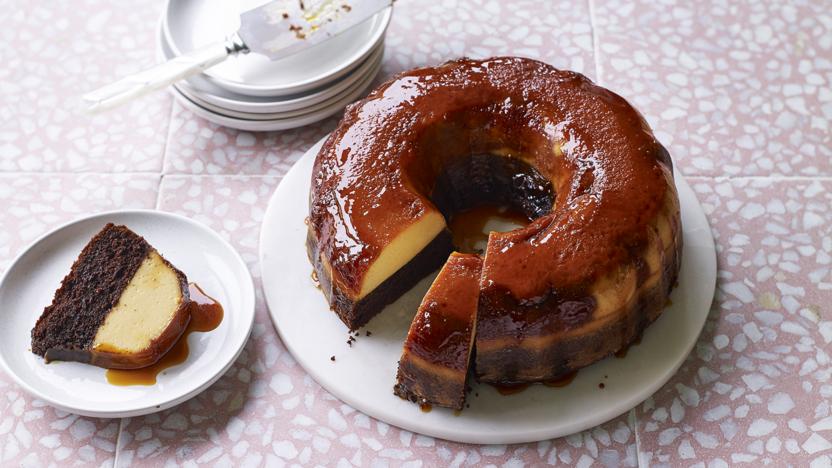 Nadiya's chocolate caramel flan (or chocoflan) magically inverts itself in the oven, when the crème caramel rises to the top.

Ingredients
For the caramel
125g/4½oz shop-bought salted caramel sauce
For the cake
For the crème caramel
Method
Preheat the oven to 180C/160C Fan/Gas 4. Grease and lightly flour a 23cm/9in Bundt tin. Find a roasting tin big enough to hold the Bundt tin comfortably and deep enough for water to come two-thirds of the way up the side of the Bundt tin. Pop a tea towel in the base of the roasting tin.

To make the caramel layer, put the salted caramel in a microwaveable dish and warm for about 20 seconds or just long enough to make it runny. Pour into the base of the Bundt tin, avoiding drips on the sides. Tap on the worktop to level the surface.

To make the cake layer, whisk the butter and sugar in a bowl until really light and fluffy. Add the egg and vanilla extract and mix to combine.

In a separate bowl, add the flour, cocoa, bicarbonate of soda and baking powder and mix thoroughly.

Spoon the coffee into a small bowl, add a few tablespoons of the milk and heat for a few seconds in the microwave or in a small saucepan on a medium heat, until the coffee has dissolved. Pour the coffee into the remaining milk and stir through.

Sift a third of the flour mixture into the butter mixture and fold in with a large metal spoon. Fold in a third of the coffee-flavoured milk, then repeat until all the flour and milk has been mixed in and is smooth.

Spoon the cake mixture over the salted caramel in the tin, tap the tin on the work surface to remove any bubbles and make sure the top is level. Put the Bundt tin in the centre of the roasting tin.

To make the crème caramel, mix the evaporated milk, condensed milk, eggs, vanilla and salt in a food processor until smooth. Pour over the back of a spoon, over the top of the cake batter.

Have a jug of hot water ready. Put the roasting tin with the Bundt tin into the oven. Before you close the door, pour the water straight onto the tea towel in the roasting tin, making sure the water reaches at least two-thirds of the way up the side of the Bundt tin.

Bake for 1 hour and don't be tempted to open the oven. Remove from the oven and leave to cool in the tin for another hour. Flip over onto a serving dish, cut into slices and serve.
Recipe Tips
This flan keeps in the fridge for up to two days.
This recipe is from...
Recipes from this episode