Gooey chocolate hazelnut brownies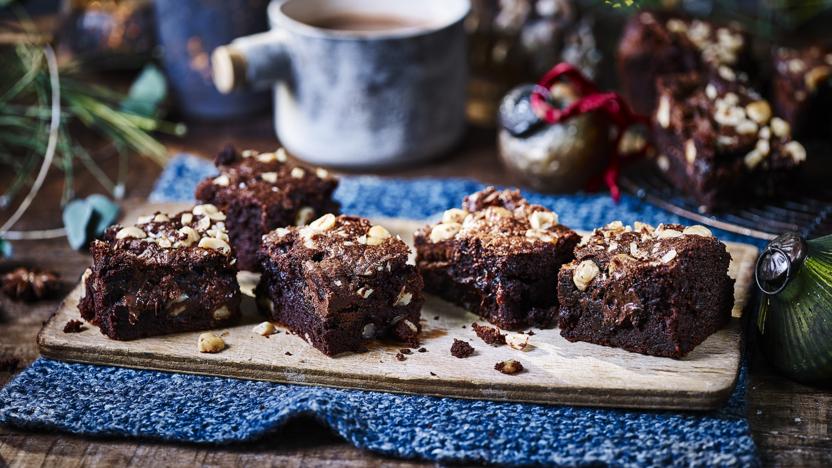 This dense and fudgy brownie recipe adds chocolate hazelnut spread into the mix as well as crunchy toasted hazelnuts.
Method
Preheat the oven to 170C/150C Fan/Gas 3. Line a 30x20cm/12x8in straight sided brownie tin with foil or non-stick baking parchment.

Sieve the flour, cocoa and baking powder together in a bowl and add a good pinch of salt. Break 250g/9oz of the chocolate into a heatproof bowl and place over a barely simmering saucepan of water, making sure the bowl does not touch the water. Leave to melt, stirring regularly.

When the chocolate has melted, remove and leave to cool slightly. Roughly chop the remaining chocolate and set aside.

Beat the butter and sugar together in a bowl until very light and fluffy. Add the eggs, one at a time, then pour in the chocolate. Mix thoroughly, then add a third of the flour mixture. Stir to combine, then repeat with the other two-thirds of flour.

Add half of the hazelnuts and all the reserved chopped chocolate and stir to combine, then scrape the mixture into the prepared tin.

Whisk the chocolate spread and hazelnut liqueur together (if using), until you have a smooth, spoonable paste. Make little wells in the brownie mix and add spoonfuls of the mixture.

Sprinkle over the remaining hazelnuts and press down lightly. Bake in the preheated oven for around 30 minutes, testing after 25 minutes. When the brownies are done a wooden skewer should come out with a few crumbs attached – it shouldn't be wet, but it shouldn't be completely clean either.

Leave to cool in the tin. If you can bear to wait, put the brownie tin in the fridge to rest overnight before cutting them – it will help them settle into a consistency that isn't too cake-like. Cut into squares and store in an airtight tin.
Recipe Tips
To get the right balance between cake-like and fudge-like brownie, try leaving them in the fridge overnight before cutting. But if you cut them right away the consistency will still improve after a day or two.
This recipe is from...
Recipes from this episode