Chocolate and orange soufflé with orange liqueur sauce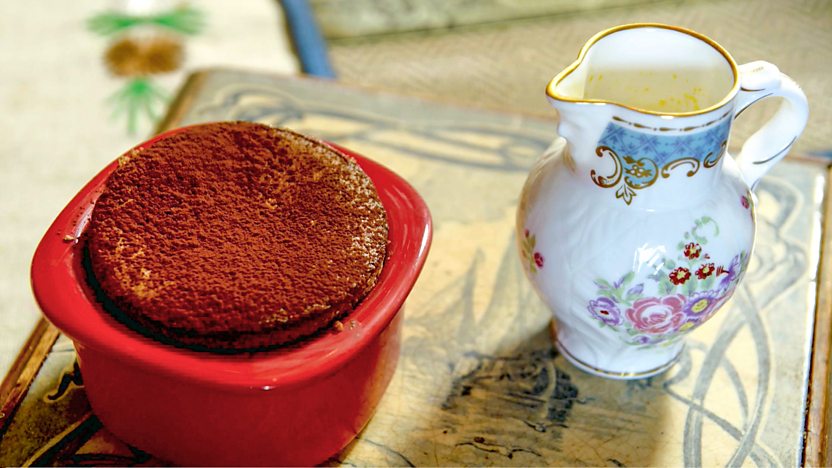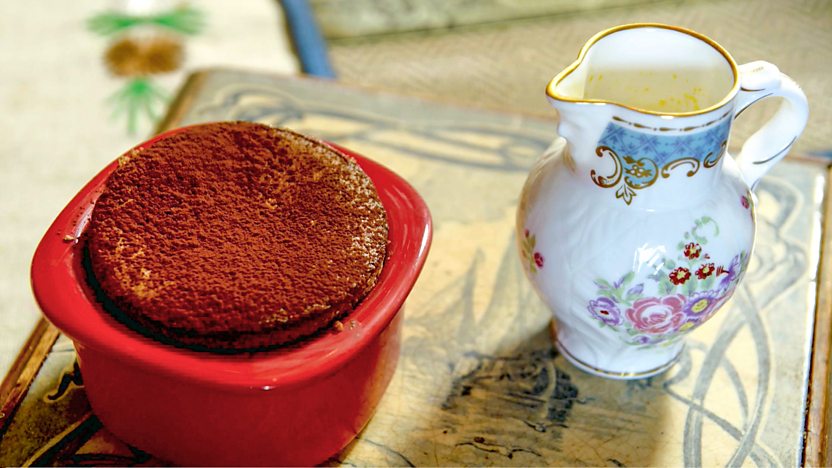 Add a little luxury to your dinner party menu with this chocolate and orange soufflé recipe.

For this recipe you will need 6 large ramekins and an electric whisk.
Method
Preheat the oven to 190C/170C Fan/Gas 5.

Brush the ramekins with melted butter using a pastry brush and dust with sugar until well coated. Place in the freezer until you need them.

For the soufflé, gently heat the milk in a saucepan until almost boiling then set aside. Meanwhile, in a separate saucepan, heat the cream and chocolate until the chocolate is melted. Beat until thick and glossy, stir in the orange zest and set aside to cool.

Whisk the egg yolks with 50g/1¾oz sugar until creamy. Sieve the cornflour, plain flour and cocoa together, then sprinkle over the egg yolks and beat until smooth. Pour the milk over the yolk mixture, stirring constantly, then transfer back to the saucepan. Stir over a low heat until thickened a little, then leave to cool, whisking regularly to make sure it doesn't develop a skin. Beat in the melted chocolate mixture.

Whisk the egg whites in a clean bowl until soft peaks form. Beat in the remaining 25g/1oz sugar a teaspoon at a time until the mixture is stiff and glossy. Carefully fold the egg whites into the chocolate mixture a third at a time, incorporating them fully before adding any more.

Divide the mixture between the ramekins, flattening the top with a palette knife. Put the ramekins on a tray and bake for 12–15 minutes, or until well risen with a slight wobble in the middle.

Meanwhile, for the sauce, put the orange juice, lemon juice and sugar in a saucepan. Heat gently, stirring constantly, until the sugar is dissolved. Increase the heat a little and simmer for a few minutes, or until it reaches a syrup consistency. Stir in the orange liqueur a tablespoon at a time and mix well.

Serve the soufflés immediately with the sauce on the side for diners to pour into the centre of the soufflés.
Recipe Tips
When whisking egg whites, it's important to use a clean bowl as any fat (including stray yolks) can prevent them foaming properly. This is a particularly corncern if beating by hand. If in doubt, wipe your bowl with a little lemon juice or vinegar.