Chocolate and lime lava puddings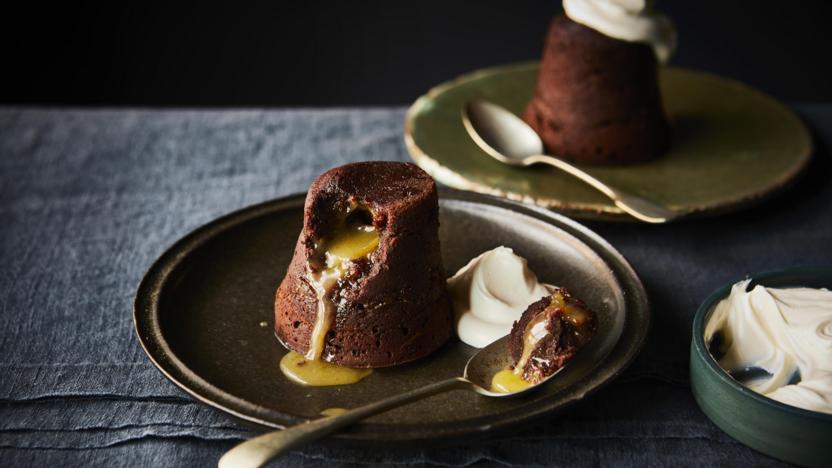 Chocolate and lime is a wonderful combination making these melt-in-the-middle puddings reminiscent of old-fashioned sweets. You will end up with more curd than you need for the puddings, but slather any leftovers on toast or serve with ice cream.

For this recipe, you will need 4 dariole moulds or ramekins with a 160ml/5½fl oz capacity.
Ingredients
For the lime curd
For the puddings
Method
To make the curd, place all of the curd ingredients, except the butter, in a heatproof bowl set over a saucepan of barely simmering water. Stir constantly for 15 minutes or until the mixture has thickened enough to coat the back of a wooden spoon. Whisk in the butter, bit by bit. Carefully take the bowl off the pan and set aside to cool.

To make the puddings, preheat the oven to 200C/180C Fan/Gas 6. Grease the dariole moulds (or ramekins) and dust with cocoa powder. Place on a baking tray.

Whisk the flour, cocoa and salt together in a bowl. In a separate bowl, beat the butter and sugar together with an electric mixer until pale and fluffy. Gradually beat in the eggs and then the espresso. Stir in the flour mixture, alternating with the milk, until well incorporated.

Fill each dariole mould one-third full with batter. Make a well in the centre of each and add a heaped tablespoon of the curd. Cover completely with the remaining batter and smooth the tops.

Bake for 17–18 minutes, or until risen and firm to touch. Run a knife around the edges of the moulds, then invert onto plates and serve immediately with vanilla ice cream or cream.