Chocolate and fig mousse cake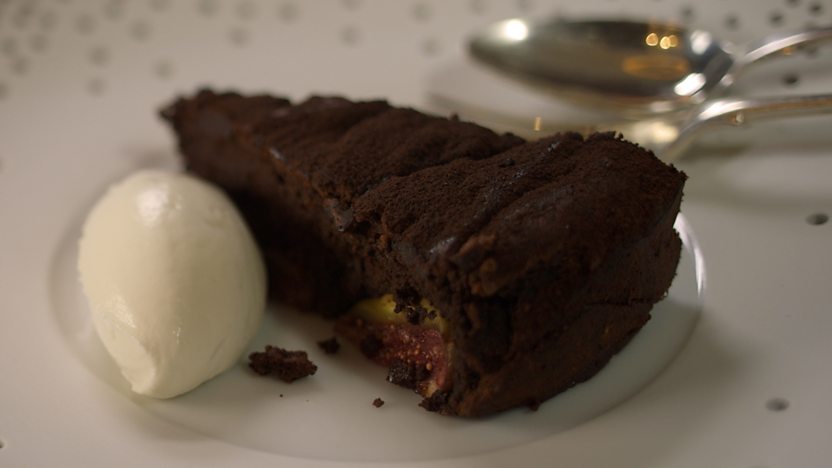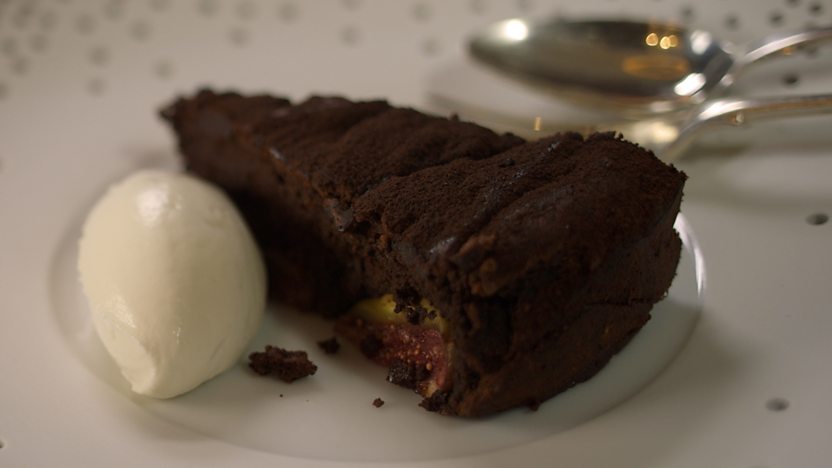 This light and airy dessert is a gluten-free chocolate cake with a hidden surprise. Try it at Christmas.
Method
Preheat the oven to 180C/160C Fan/Gas 4. Grease a 24cm/9½in loose-bottomed cake tin with butter and line with silicone or baking paper.

Suspend a large heatproof bowl over a pan of simmering water. Do not allow the base of the bowl to touch the surface of the water. Add the chocolate and butter to the bowl and stir until melted. Remove the bowl from the pan and set aside to cool slightly.

Arrange the fig halves, cut-side down, in the bottom of the cake tin in concentric circles, with the widest part of the figs facing outwards.

Whisk the egg yolks in a bowl with half of the sugar and until thickened and pale. Add the orange liqueur and whisk again.

In a separate bowl, whisk the egg whites until soft peaks form when the whisk is removed.

Pour the egg yolk mixture onto the melted chocolate, whisking to combine. Beat in half of the whisked egg whites to lighten the mixture, then gently and quickly fold the remaining egg whites into the mixture, making sure they are fully incorporated.

Pour the chocolate mousse mixture into the cake tin, taking care not to dislodge the fig halves. Bake the cake in the oven for 18-20 minutes, or until just set. There will be a bit of a wobble to the middle of the cake.

Meanwhile, lightly whip the double cream until soft peaks form when the whisk is removed. Stir in a little orange liqueur, to taste.

Dust the cooked cake with the cocoa powder, then carefully remove it from the tin. Serve straight away or at room temperature, with a dollop of the boozy cream.
Recipe Tips
Make sure your bowl and whisk are very clean, free of grease and completely dry, as any water or grease will affect the meringue.
This recipe is from...
Recipes from this episode