Chocolate and chilli mousse pie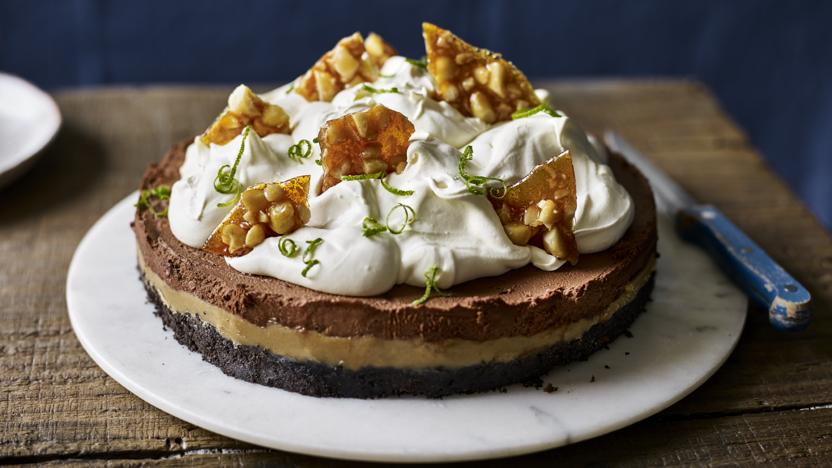 This is an American-style pie with a spicy chilli twist! With salted caramel and chocolate mousse in the centre, this makes a showstopper dessert.
Ingredients
For the biscuit base
For the salted caramel filling
For the chocolate mousse
For the chilli praline
For the topping
Method
For the biscuit base, blitz the biscuits in a blender or food processor (or put in a bag and bash with a rolling pin) until it forms the texture of fine breadcrumbs and transfer to a bowl. Stir the butter into the biscuit crumbs. Press the mixture into the base of a 23cm/9in loose-bottomed, preferably springform, round cake tin. Put in the freezer to set while you make the caramel.

For the salted caramel filling, place the butter, sugar and salt in a saucepan. Melt over a medium heat, stirring constantly until it starts to bubble. Allow to bubble for a minute, then remove from the heat and leave to cool for a few minutes. Pour over the biscuit base and return to the freezer for about 30 minutes, or until it is set.

For the chocolate mousse, put the chocolate in a heatproof bowl set over a saucepan of gently simmering water, making sure the bowl does not touch the water. Leave to melt, stirring occasionally. Once melted, stir in the chillies, remove from the heat and leave to cool a little. Whisk the cream in a large bowl until it forms soft peaks and pour the chocolate into the cream, along with the cocoa nibs. Mix thoroughly until it is no longer streaky, then spoon over the caramel, making the top as smooth as possible. Freeze for a further 30 minutes or transfer to the fridge and leave until ready to serve.

For the praline, line a baking tray with baking paper. Put the sugar into a saucepan over a medium heat and stir constantly until the sugar has melted. Carefully add the water from the chillies and mix well. Stir in the nuts. Pour onto the baking tray, spreading it out as quickly as possible as it will continue to cook off the heat. Leave to cool until hard and brittle. Break into shards.

For the topping, whisk the cream with the icing sugar until it forms soft peaks. Swirl the cream over the chocolate mousse with the back of a spoon and top with shards of praline. Sprinkle over the lime zest and finish with sprinkle of Mexican chilli powder.