Chocolate and cherry loaf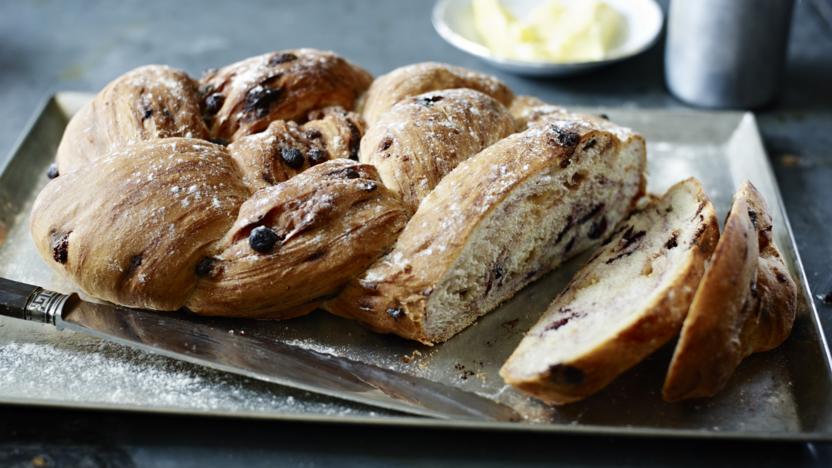 Rich chocolate and fruity cherries come together in this recipe to create a deliciously different teatime treat.
Method
Put the flour into a large bowl and add the salt and olive oil to one side, and the yeast to the other. Slowly add 320ml/11fl oz water and mix by hand until the dough is pliable.

Tip the dough out onto a lightly floured work surface and knead for 4–7 minutes. Add the cherries to the dough, (you may need to add a little more flour if the mix becomes too sloppy), then add the chocolate chips. Mix well, adding a little flour if the dough becomes too soft.

Put the dough back in the bowl, cover with a clean tea towel and leave to prove until doubled in size (about 1–1½ hours).

On a lightly floured work surface, divide the dough in half and shape each half into a long sausage-shaped strand. Lay one strand across the other to make a cross. Grab both ends of the bottom strand and pull the top end towards you, looping it under the nearer end. Lift the nearer end up and over the other strand. Repeat the looping and crossing, always working from the far strands, until the dough is all plaited. Push any loose ends under the loaf.

Dust a baking tray with flour. Place the loaf on the baking tray. Dust with flour, place in a large plastic bag and leave to prove for an hour.

Preheat the oven to 220C/200C(fan)/425F/Gas 7.

Bake the bread for 20 minutes, then reduce the oven temperature to 200C/180C(fan)/400F/Gas 6 and bake for a further 20-25 minutes. Transfer to a wire rack to cool.

Once cooled, slice and serve with a cup of tea or coffee.
This recipe is from...
Recipes from this episode