Chocolate and almond ghriba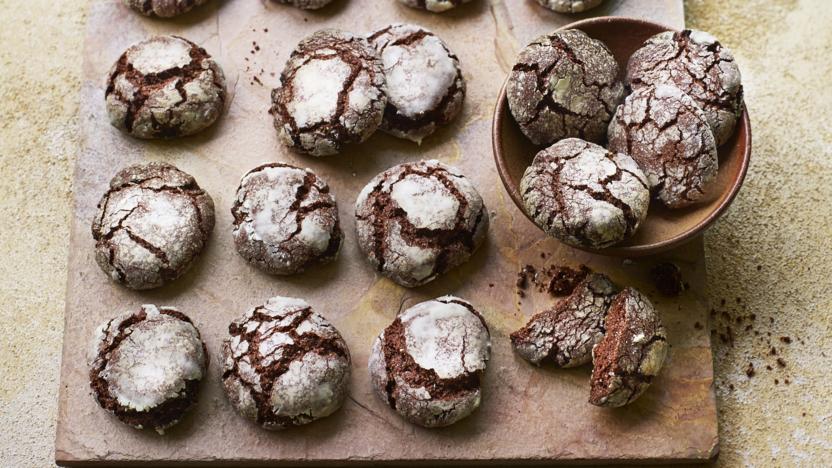 Ghribas are Moroccan cookies that come in various flavours, but this chocolate and almond version is one of our favourites. They have a cracked top and chewy centre, and are deliciously rich and fragrant.
Method
Put the chocolate and butter in a microwave-safe bowl and microwave for 15 second intervals, stirring between each one until just melted. Alternatively, melt the chocolate in a heatproof bowl set over a saucepan of gently simmering water, making sure the bottom of the bowl does not touch the water. Take care not to overheat the chocolate as it can seize.

Stir in the sugar, eggs and vanilla and almond extracts. Mix in the ground almonds, plain flour, baking powder and salt until well combined. Cover with cling film and refrigerate for 2 hours or overnight.

Preheat the oven to 200C/180C Fan/Gas 6 and line a baking tray with baking paper.

Shape tablespoons of the dough into balls and roll each one in the icing sugar. Place the balls on the baking tray and lightly press each cookie (do not flatten completely) leaving at least 5cm/2in between each. Bake for 10–13 minutes, or until the cookies are cracked and firm on the outside.

Cool for 15 minutes on the baking tray then transfer to a wire rack to cool completely.
Recipe Tips
You can keep the cookies in an airtight container to prevent them from drying out. They will keep for up to 10 days.