Chocolate-covered strawberries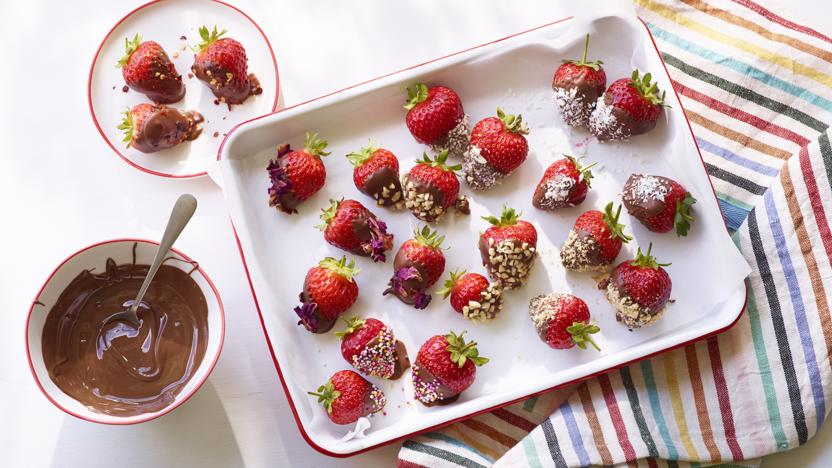 Stylish, decadent and fun, a platter of chocolate-covered strawberries makes a perfect summer dessert or luxurious edible gift.
Ingredients
400g/14oz strawberries, with stalks, at room temperature
80g/2¾oz milk cooking chocolate, broken into pieces
For the optional extra toppings
20g/1¾oz melted dark chocolate, minimum 70% cocoa solids, for drizzling
20g/1¾oz melted white chocolate, for drizzling
popping candy
hundreds and thousands
cookie crumbs
edible rose petals
chilli flakes
edible gold or silver glitter spray
Method
Line a baking tray with nonstick baking paper. Place any of the optional extra toppings in small bowls.

Melt the milk chocolate in a small glass heatproof bowl set over a saucepan of gently simmering water (known as a bain-marie), stirring often and making sure the bowl does not touch the water. Take the strawberries by the stalk and, one by one, dip them in the melted chocolate, allowing any excess to drip back into the bowl. Once dipped, lay the strawberries on the baking paper. Sprinkle or drizzle over any extra toppings, as preferred.

Place the finished strawberries in the fridge for at least 30 minutes to set. They are best eaten at room temperature on the same day.
Recipe Tips
Use the best, ripest strawberries you can find! If you fancy a little more extravagance then try the other toppings suggested in this recipe.