Chipotle chicken with salsa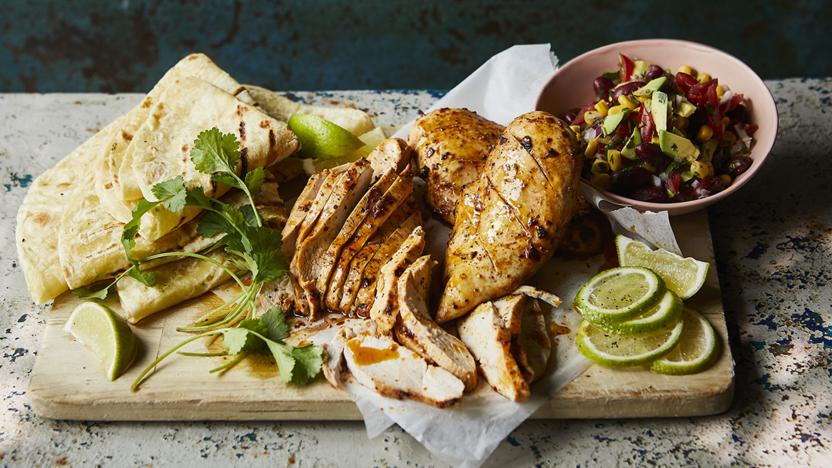 This simple spicy supper makes an ideal weeknight meal if you can get ahead and marinate the chicken the night before. The chipotle chilli paste gives the chicken a smoky flavour as well as some heat, which perfectly complements the fresh and zesty salsa. Serve without the tortillas for a gluten-free option.

Each serving (including an optional wrap) provides 568 kcal, 47g protein, 47g carbohydrate (of which 10g sugars), 10g fat (of which 5g saturates), 5.5g fibre and 1.6g salt.
Ingredients
For the chicken
For the chipotle marinade
For the corn and avocado salsa
Method
For the chicken, make 3–4 diagonal slashes on the top of each chicken breast and place in a non-reactive (glass) bowl.

For the marinade, mix all the marinade ingredients together and season well with salt and pepper. Spread the marinade all over the chicken. Cover the chicken and leave to marinate for 3–4 hours, or overnight if time permits.

For the corn and avocado salsa, mix all the salsa ingredients together, season with salt and pepper and set aside for 30 minutes at room temperature.

Preheat the grill to medium-high. Put the chicken on a grill-rack in a single layer. Grill for 4–5 minutes on each side or until cooked through.

Serve the chicken with the salsa and the warmed tortillas (if using).