Chilli crab with egg noodles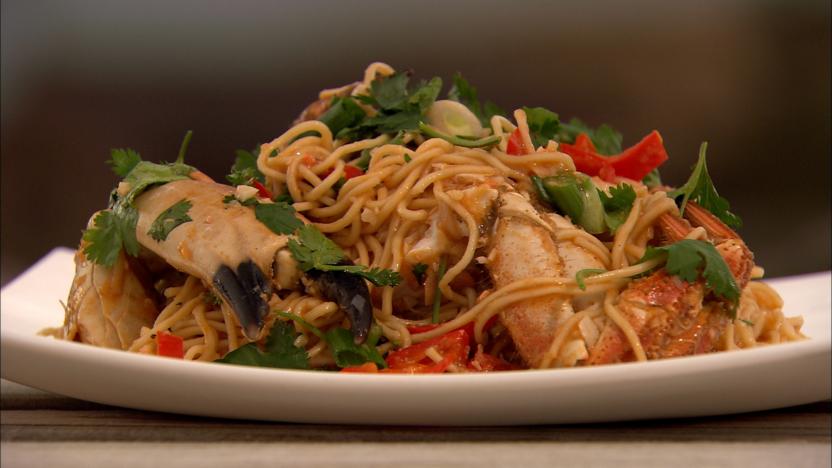 This cracking crab dish will bring some spice to your kitchen.
Ingredients
For the chilli sauce
For the crab
4 tbsp groundnut oil
6 cloves garlic, finely chopped
2 tbsp grated fresh root ginger
3 red chillies, de-seeded, finely sliced
500g/1lb1½oz cooked crab, inedible parts discarded, claws removed and cracked, legs removed, remaining shell chopped into quarters
150ml/5fl oz water
1 tbsp lime juice
2 spring onions, sliced lengthways
1 large handful fresh coriander, roughly chopped
For the egg noodles
Method
For the chilli sauce, place all of the sauce ingredients together into a bowl and mix well. Set aside.

For the crab, heat the oil in a wok until smoking and add the garlic, ginger and chillies and stir-fry for 30 seconds. Add the crab pieces to the wok and stir-fry for a further 1-2 minutes, then stir in the chilli sauce and cook for 1-2 minutes. Add the water and lime juice and stir well.

For the noodles, drizzle the cooked noodles with sesame oil to prevent sticking. Add the cooked noodles and chilli flakes to the hot wok and season with the soy sauce. Toss to mix, then stir in half the spring onions and coriander.

To serve, pile the noodles and chilli crab onto a serving plate and garnish with the remaining spring onion slices and chopped coriander. Serve immediately.