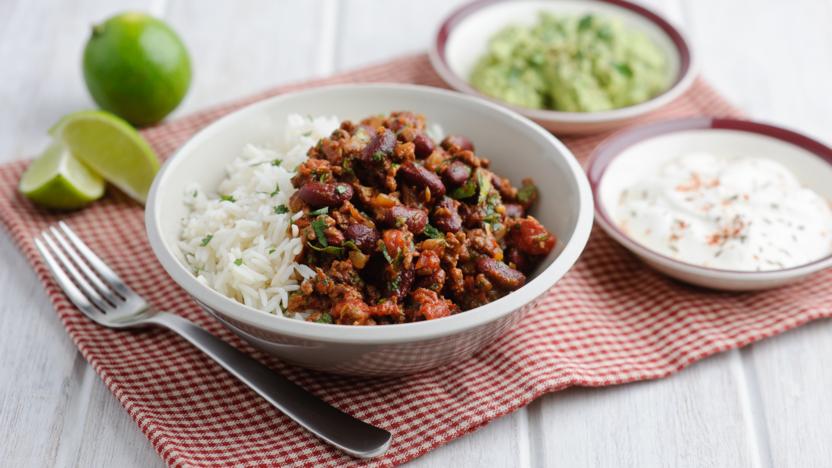 Preparation time
less than 30 mins
This is a really easy chilli con carne recipe. It has layers of flavour even though it uses mostly storecupboard ingredients.You can play with how hot you make this chilli recipe by leaving the seeds in the fresh chillies or adding a pinch of dried chilli flakes.

Each serving provides 420 kcal, 43g protein, 22g carbohydrates (of which 9.5g sugars), 12g fat (of which 4g saturates), 9.5g fibre and 1g salt.
Preparation time
less than 30 mins
Method
Heat the oil in a large, heavy-based saucepan with a lid and fry the onion and garlic until softened. Increase the heat and add the mince, cooking quickly until browned and breaking down any chunks of meat with a wooden spoon.

Pour in the red wine and boil for 2–3 minutes.

Stir in the tinned tomatoes, tomato purée, fresh chilli or chilli flakes, cumin, coriander, cinnamon, and Worcestershire sauce and crumble in the stock cube. Season well with salt and freshly ground black pepper. Bring to a simmer, cover with a lid and cook over a gentle heat for about 50 minutes to 1 hour, stirring occasionally until the mixture is rich and thickened.

Add the kidney beans and fresh coriander. Cook for a further 10 minutes, uncovered, before removing from the heat, adding any extra seasoning if necessary. Serve with rice, guacamole, sour cream and a big green salad.
Recipe Tips
The chilli is much tastier a day or two after it's cooked because the flavours develop and the texture becomes richer. Simply leave to cool, stick in the fridge and gently heat before serving. If you're eating the chilli on the day you prepared it, any leftovers can be frozen in individual portions in well-sealed sandwich bags, then reheated by boiling from frozen in a saucepan of water for about 15-20 minutes until steaming hot.
Related Recipes
See more Easy crowd-pleasers recipes (15)
See more chilli con carne recipes (14)
See more beef mince recipes (120)