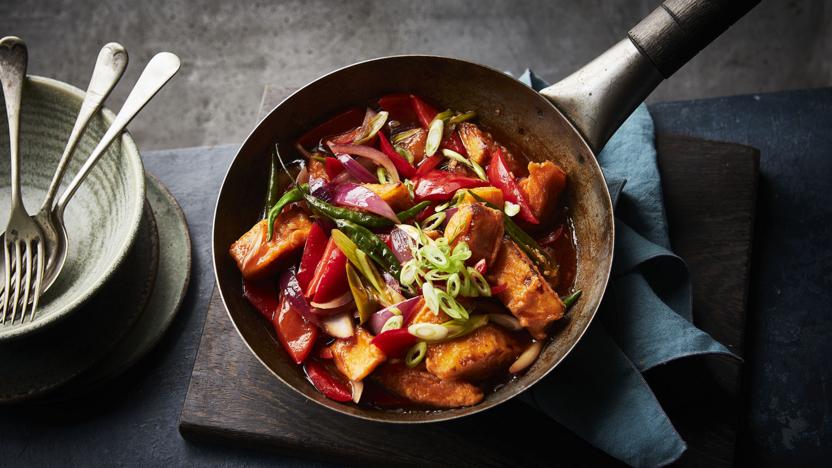 Chilli paneer is an Indian street food favourite! Golden, crispy nuggets of paneer are wrapped in a sticky chilli garlic sauce – the ingredients are unusual but the final result is delicious!
Ingredients
For the sauce
For the paneer
For the chilli paneer
Method
Combine the sauce ingredients in a bowl with 100ml/3½fl oz water and set aside.

Pour the vegetable oil into a heavy-bottomed pan or a deep-fat fryer and heat to 180C, or until a cube of bread turns golden-brown in 15 seconds. (CAUTION: hot oil can be dangerous. Do not leave unattended.)

Combine the plain flour, cornflour, chilli powder, chilli flakes and salt in a large mixing bowl. Add 80ml/2½fl oz water a little at a time and whisk to make a sticky batter. You'll need to keep stirring it to keep it loose! Coat a few paneer pieces in the batter and deep-fry for 3–4 minutes until crisp and golden. Drain on kitchen paper and batter then deep-fry the remaining paneer cubes in batches.

To make the chilli paneer, place a large wok over a medium flame and add the vegetable oil. When the oil is hot, add the spring onions and garlic, fry for a minute, then add the green chillies, peppers and red onion. Fry for 3 minutes, stirring well, then add the sauce mixture along with the salt and pepper. Simmer over a low heat for 1 minute.

Mix the cornflour with a tablespoon of cold water in a small bowl, and add this to the wok. Cook for 2 minutes until it thickens. Finally, add the crispy fried paneer and the spring onion greens and mix thoroughly to coat everything in the sauce. Serve immediately.
Recipe Tips
Don't be tempted to add any more water to the batter! The batter needs to be thick, otherwise it will not coat the paneer when it fries. This chilli paneer is fantastic served with egg-fried rice or noodles.