Chilli chocolate truffles (Trufas de chocolate y chile pasilla)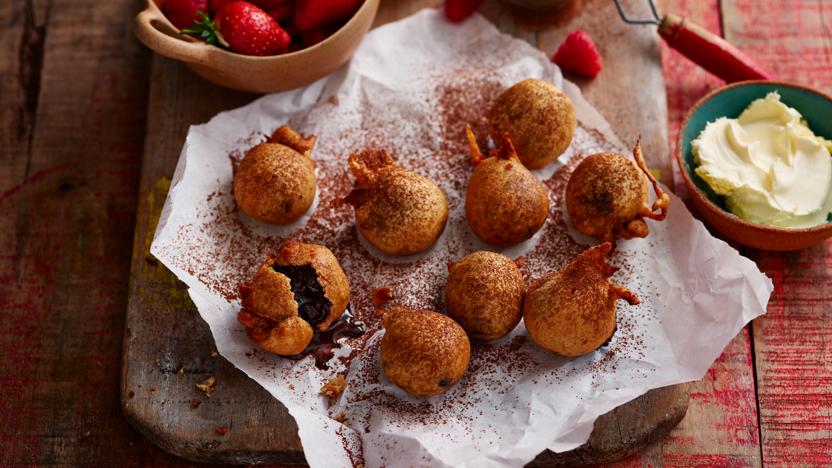 These are addictive. Pasilla chillies are dried and have a gorgeous fruitiness about them, so this combination of chocolate, a hint of fruit and not too hot chilli makes for a great treat. The recipe calls for the truffles to be dipped in batter and fried just long enough to make them crisp on the outside but still slightly gooey inside. Alternatively, if you just refrigerate them and don't add the batter, you have petits fours to go with coffee.
Ingredients
For the truffles
For the batter (optional)
To serve
Method
To make the truffles, if using a whole chilli, toast in a dry pan over a medium heat then blend into a powder in a spice grinder. (Skip this step if using ground pasilla)

Heat the cream, ground pasilla, salt and cayenne, if using, in a saucepan over a medium heat. When the cream is hot but not boiling, remove from the heat and stir in the chocolate until melted. Set aside to cool and place in the fridge until firm enough to shape into balls.

Line a baking tray with baking paper and place the cocoa powder into a small bowl. Using two teaspoons, shape the chocolate into 15–18 small ovals. Drop into the cocoa then, using your hands, work quickly to roll into balls, dusting with cocoa as you go. Place onto the baking paper and freeze for at least 3 hours, preferably overnight (see tip if only making the truffles). Once frozen, they can be kept for a week or two. Store them layered with baking parchment in a plastic box with a lid.

To make the batter, sift the flour, sugar, baking powder and salt into a bowl. Make a well in the centre and add the egg. Whisk the egg, gradually drawing in the flour from the sides to make a paste. Add the water or milk a little at a time until you have a smooth, thick batter.

Heat the oil to 175C in a large saucepan (CAUTION: hot oil can be dangerous. Do not leave unattended). In batches, shake the excess cocoa off the truffles then dip them into the batter and carefully lower them into the hot oil for a couple of minutes until golden-brown. Set each batch aside on kitchen paper to drain. Trim any ragged edges with scissors and dust with cocoa powder.

Serve immediately with whipped or clotted cream and fresh, red berries.
This recipe is from...
Recipes from this episode