Chilled summer garden soup with smoked salmon
This chilled soup is perfect for a hot summer's day in the garden or for a family lunch.

Ingredients
130g/4¾oz frozen peas
1 cucumber, about 250g/9oz, roughly chopped
2 pickled gherkins
50ml/2fl oz gherkin pickling liquor
100g/3½oz day-old sliced bread (preferably sourdough), torn
2 courgettes, about 475g/1lb 1oz, grated
½ bunch fresh chives
½ bunch fresh dill, plus extra sprigs to serve
1 iceberg lettuce, cored and roughly chopped
100g/3½oz Greek-style yoghurt, plus 50g/1¾oz to serve
25ml/1fl oz olive oil
8 ice cubes
sea salt and freshly ground black pepper
8 slices smoked salmon, chopped, to serve
Method
Blend the peas, cucumber, gherkins and gherkin liquor in a blender or food processor until as smooth as possible. Pass through a fine sieve, keeping the liquid. Add the bread to the liquid and leave for 10 minutes.

Place the liquid with the bread in the blender or food processor with the courgettes, herbs, lettuce, yoghurt, oil and ice cubes. Blend until smooth. Season with salt and pepper.

Serve the soup in bowls, topped with the smoked salmon, yoghurt and dill.
This recipe is from...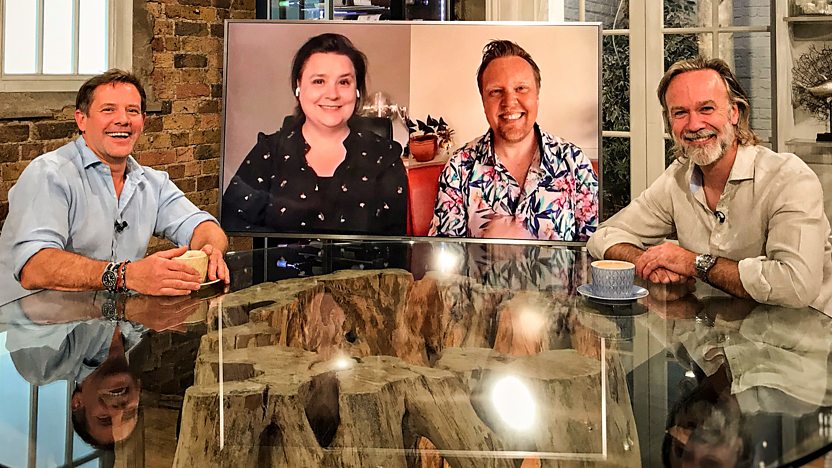 Saturday Kitchen
16/05/2020
Recipes from this episode