Chickpea and chorizo stew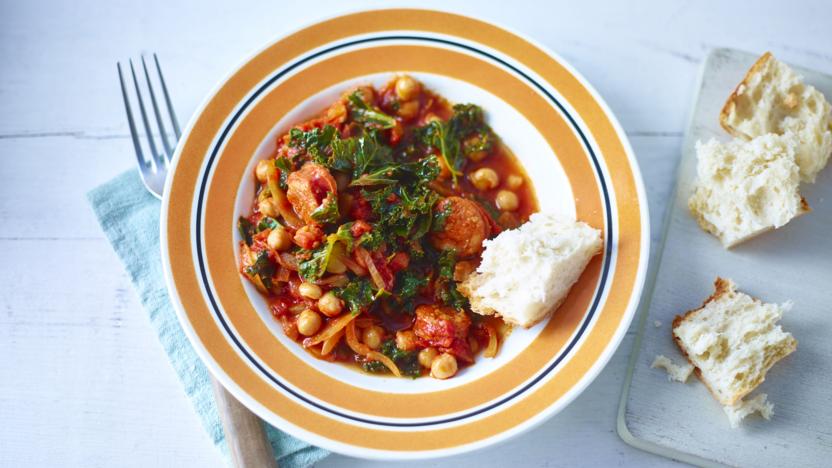 Adding flavoursome, peppery chorizo to a vegetable-packed stew makes a little meat go a long way.

If you're cooking for yourself this dish is great for batch cooking. Just portion up the leftovers, leave to cool and then freeze. It will keep in the freezer for up to 2 months. This meal, if served as three portions, provides 305kcal, 15g protein, 23g carbohydrate (of which 10g sugars), 15g fat (of which 4g saturates), 8.5g fibre and 0.9g salt per portion. With a GI of 45 this meal is high protein, low GI.
Method
Heat the oil in a large non-stick saucepan over a medium heat. Add the onion and garlic and fry gently for 2-3 minutes, stirring occasionally, until softened but not browned.

While the onion is cooking, cut the chorizo into roughly 1.5cm/½in slices. Stir the chorizo slices and hot smoked paprika into the onion and garlic mixture and fry for a further 1-2 minutes.

Add the tinned tomatoes, water and tomato purée to the pan and stir well. Bring the mixture to the boil, then reduce the heat until the mixture is simmering.

Drain the chickpeas in a sieve and rinse under cold water. Add them to the tomato mixture and return it to a simmer. Continue to simmer for 8-10 minutes, stirring once or twice, until the volume of sauce has reduced by about half.

Add the kale to the stew and continue to simmer for a further 1-2 minutes, or until tender. Season, to taste, with salt and freshly ground black pepper.

To serve, ladle the stew into serving bowls and serve with crusty bread.
Recipe Tips
Tip 1: Any unused chorizo can be frozen for up to 1 month, wrapped tightly in cling film.
Tip 2: If preferred, substitute chickpeas with butterbeans or cannellini beans.
Tip 3: If you can't find soft cooking chorizo, use hard chorizo (which can be eaten without cooking). Remove the sausage casing before slicing.
Tip 4: To lessen the heat of this dish, substitute hot smoked paprika with sweet smoked paprika.