Chickpea and butternut squash casserole with scone topping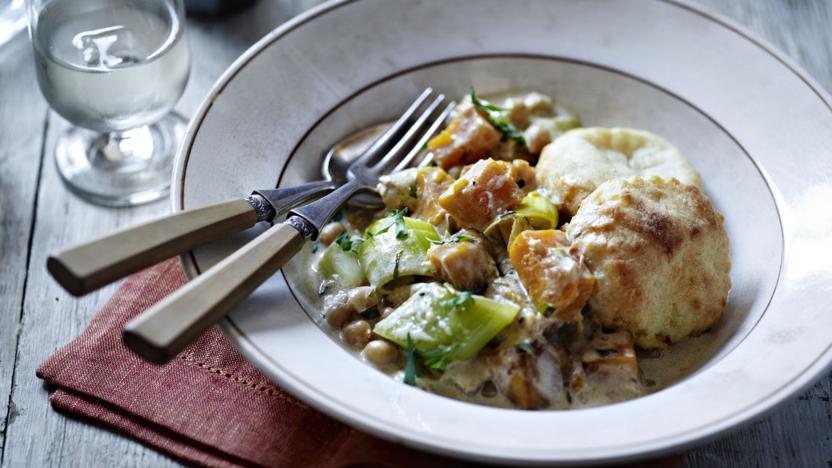 Make this warming vegetarian supper, topped with potato scones, on a cold winter's night.
Ingredients
For the chickpea casserole
For the scone topping
Method
For the chickpea casserole, preheat the oven to 180C/350F/Gas 4. Place the butternut squash in a baking tray and drizzle it with one tablespoon of the vegetable oil.

Roast the butternut squash for 8-10 minutes, or until tender.

Meanwhile, heat the rest of the vegetable oil in a frying pan and fry the onion and garlic for 3-4 minutes, or until softened. Add the leeks and cook for a further 3-4 minutes.

Add the cooked butternut squash and wine and cook for a further 5-6 minutes. Season with salt and freshly ground black pepper.

Stir in the crème fraîche, double cream, chickpeas and tarragon. Spoon the mixture into a casserole dish.

Increase the oven temperature to 200C/400F/gas 6.

Meanwhile, for the scone topping, boil the potatoes in pan of boiling salted water for 10-12 minutes, or until tender. Drain.

Tip the cooked potatoes into a bowl and mash. Stir in the flour and butter until the mixture comes together as a dough.

Roll the dough out on a floured surface to a 2.5cm/1in thickness. Using a 10cm/4in pastry cutter, cut out circles of the dough and place on top of the casserole.

Bake in the oven for 10-12 minutes, or until golden-brown on top.