Stuffed chicken wrapped in bacon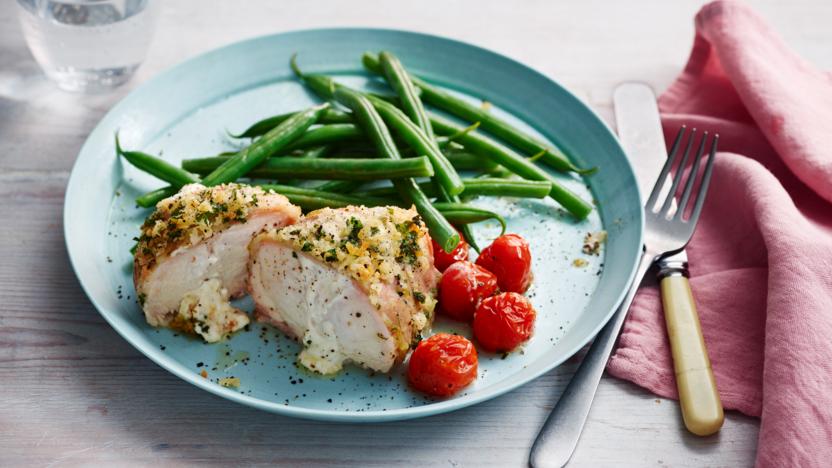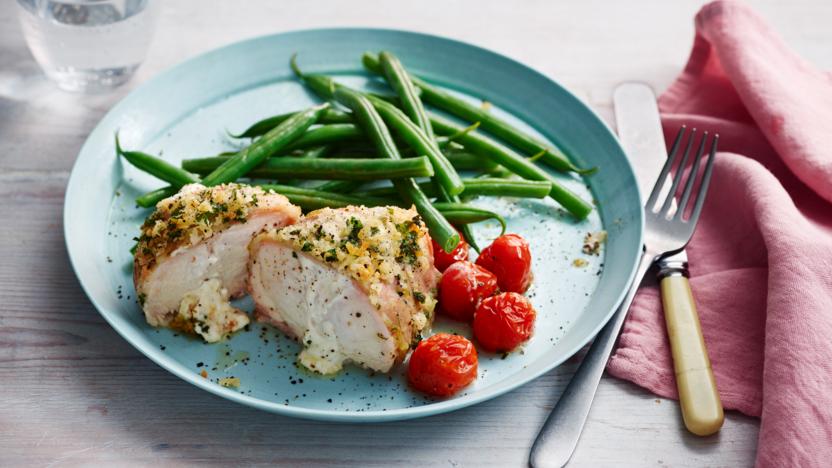 Transform a simple chicken breast by stuffing it with garlicky cheese and wrapping it in crisp streaky bacon. This recipe is guaranteed to make someone feel completely spoiled. Plus it's on the table in 20 minutes.
Method
Preheat the oven to 190C/170C Fan/Gas 5.

Turn the chicken breasts over so that the smooth side is on the chopping board. Using a small sharp knife, cut a pocket the length of the breast, under the small false fillet – be careful not to cut all the way through the chicken breast.

Open up the pocket and neatly spread the cream cheese into the pocket. Fold the chicken back over to seal the cheese inside.

Take three slices of bacon from the packet, leaving them overlapped, place them on the board and massage the bacon so that it doubles in length. Repeat with another three slices. Place each chicken breast on top of three slices of bacon, at an angle, and roll up tightly so that the bacon seals the chicken breast packet closed. Put the chicken breasts on a baking tray, drizzle with olive oil and bake in the oven for 10 minutes.

In a small bowl, mix together the parsley, breadcrumbs, Parmesan and season with salt and freshly ground black pepper.

Take the baking tray out of the oven and scatter the breadcrumb mixture over the top. Arrange the cherry tomatoes around the chicken. Return to the oven for another 10 minutes, or until the chicken is cooked through and the tomatoes are softened.

Allow the chicken breast to rest for 10 minutes before serving. Slice each chicken breast in half and serve with the roasted tomatoes.