Chicken liver parfait with brandy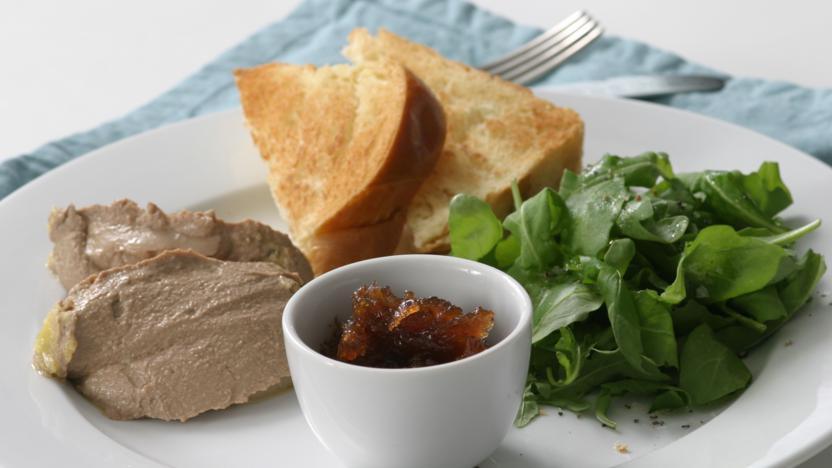 This simple recipe works great as a light lunch or starter, and can be made the day before.
Method
Clean the chicken livers, removing and discarding any greenish or sinewy bits.

Heat two tablespoons of the melted butter in a heavy-based frying pan. When the butter begins to foam, add the chicken livers to the hot pan.

Cook the livers gently for 3-4 minutes, carefully moving them around, but don't allow them to brown. (You may need to do this in batches, depending on the size of your pan.) Season with salt and freshly ground black pepper.

Add the brandy to the pan and carefully flame the brandy for a few seconds to burn off the alcohol. Allow the livers to cool slightly.

Spoon the livers (not including the cooking juices) into the bowl of a food processor and blend. With the motor running, add most of the remaining butter (reserving two tablespoons for the top) in a steady stream. Don't add the milk solids that will have sunk to the bottom of the pan.

With the motor still running, add the double cream and blend for a few more seconds. The liver mixture should be fairly smooth.

Pass the liver mixture through a sieve, pushing the mixture through with a wooden spoon into a bowl, discarding any hard bits that remain in the sieve (this will take about 10-15 minutes). This will make an ultra-smooth parfait.

Spoon the parfait into a terrine dish and smooth the surface with a knife, if necessary. Sprinkle a few crushed peppercorns on top and pour over the reserved melted butter. Place in the fridge to cool and set firm for at least two hours.

Using a spoon heated in hot water, scoop the parfait out onto a serving plate. Serve with toasted brioche and some mixed baby salad leaves.