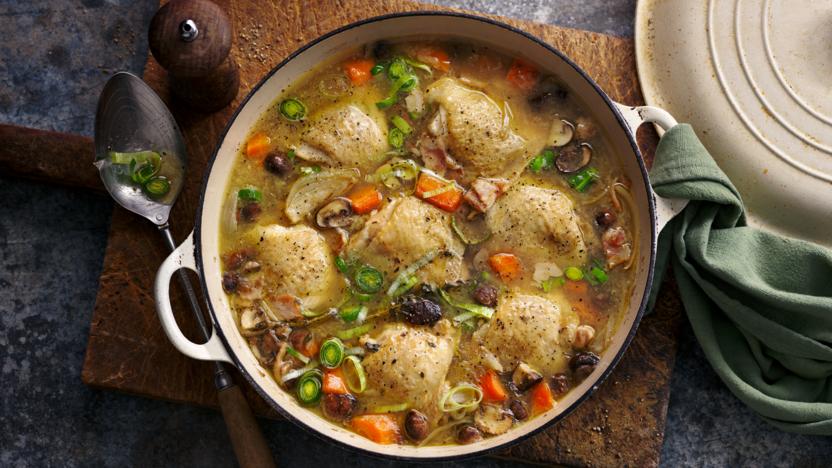 An easy chicken casserole recipe should be in every cook's little black book and this one will go down well with all of the family. Serve with mashed or boiled potatoes, or rice.

Each serving provides 425 kcal, 48g protein, 13g carbohydrates (of which 7.5g sugars), 19g fat (of which 5g saturates), 5g fibre and 2.4g salt.
Method
Preheat the oven 190C/170C Fan/Gas 5. Season the chicken thighs all over with a little salt and lots of black pepper.

Heat the oil in a large non-stick frying pan over a medium heat and fry the chicken for 7–8 minutes, skin-side down, or until the skin is nicely browned. Turn and cook on the other side for 3 minutes more. Transfer to a plate.

Return the pan to the heat and add the onion, bacon and mushrooms. Fry over a medium-high heat for 4–5 minutes, or until lightly browned, stirring regularly. Tip into a medium, lidded oven-safe pan or casserole. Add the carrots and flour and toss together well.

Sprinkle with the thyme, then pour in the stock, a little at a time, stirring well between each addition. Add the chicken pieces back to the pan and bring to a gentle simmer. Cover the pan with a lid.

Place in the oven and cook for 45 minutes. Take out of the oven and stir in the leeks. Return to the oven for a further 15 minutes, or until the chicken and leeks are tender and the sauce has thickened. Serve.
Recipe Tips
You can use boneless, skinless chicken thigh fillets for this recipe if you like. Fry for 3 minutes on each side before transferring to a plate. Follow the recipe as above but cook for 35 minutes rather than 45 minutes before adding the leek.