Caribbean chicken with rice and peas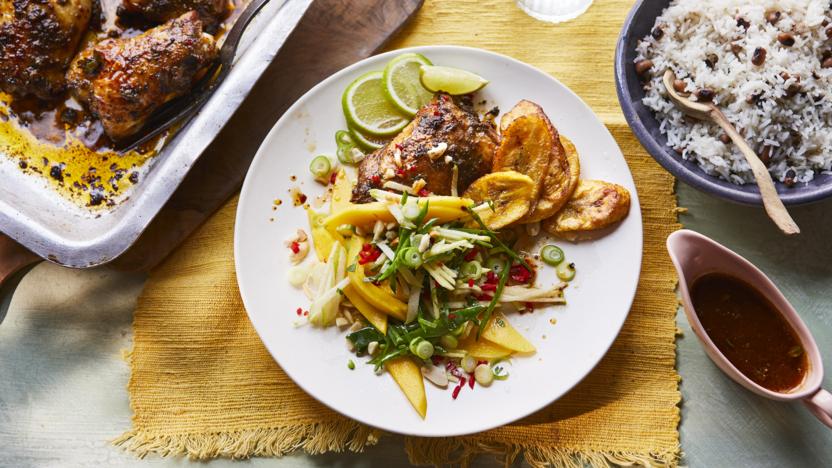 Look for very ripe plantains to make this taste of the Caribbean: rum chicken, rice and peas, tropical slaw and fried plantain.



Ingredients
For the chicken
For the rice and peas
For the slaw
For the fried plantain
Method
For the chicken, blend the onion in a food processor or blender until smooth. Tip into a shallow dish large enough to hold all the chicken thighs. Add the coriander, cumin, thyme, garlic, parsley, rapeseed oil, chilli, paprika, allspice, soy sauce and nutmeg and stir well. Add the chicken to the dish and brush the marinade all over the chicken. Cover and set aside.

Put the black-eyed beans in a pan with the thyme, onion, bay leaves, rice and coconut milk. Reduce to a low heat and cover, and cook until all the liquid has evaporated and the rice is cooked through and fluffy.

Preheat the oven to 190C/170C Fan/Gas 5.

Roast the chicken for 25–30 minutes turning at least once. Pour over the honey and turn up the heat to 200C/180C Fan/Gas 6 and cook for a further 10 minutes, or until the chicken is browned and completely cooked through.

Remove the chicken from the oven, carefully pour off the juice into a small pan. Add the rum and reduce by half. Pour in the stock and reduce again until you have a gravy consistency. Keep the chicken warm.

For the slaw, combine all ingredients and mix thoroughly.

For the fried plantain, heat the oil in a deep-fat fryer (CAUTION: hot oil can be dangerous. Do not leave unattended.) Either shallow fry the plantain until crisp on the outside, or else carefully lower the plantain into the hot oil and deep-fry. Remove with a slotted spoon and drain on kitchen paper.

Serve the chicken with the gravy, rice and peas, slaw and fried plantain on the side.
This recipe is from...
Recipes from this episode