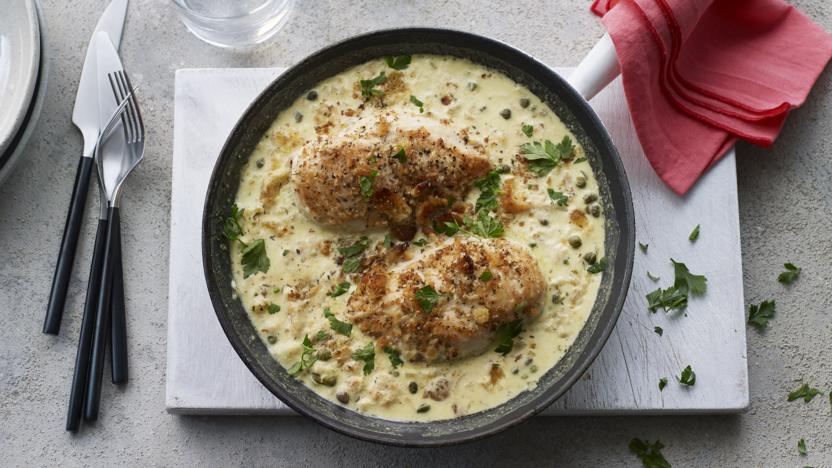 This delicious Italian dish of cheesy breadcrumbed chicken cooked in a creamy caper sauce is total comfort food. But it's still impressive enough for a dinner party. Serve with pasta, noodles or rice.


Ingredients
For the crumb topping
For the chicken piccata
Method
Preheat the oven to 220C/200C Fan/Gas 7.

To make the crumb topping, place the bread in a food processor and blend into very rough crumbs. Heat the oil in a non-stick, ovenproof frying pan and fry the crumbs for 5 minutes, or until crisp and golden, stirring regularly. Tip into a bowl and toss with the cheese, garlic, salt, oregano, thyme and plenty of ground black pepper. Set aside.

To make the chicken piccata, return the pan to the heat and add 1 tablespoon of the oil. Season the chicken with salt and pepper. Cook the chicken for 2 minutes on each side, over a medium-high heat, until lightly browned, but not cooked through. Transfer to a plate.

Add the remaining oil and the onion to the pan and fry over a gentle heat for 4–5 minutes, or until softened, stirring regularly. Add the garlic and cook for 1 minute more. Pour the cream into the pan, add 200ml/7fl oz of water and the capers and bring to a simmer, stirring. Season with salt and black pepper. Return the chicken to the pan and sprinkle with the crumbs.

Bake in the oven for about 15 minutes, or until the chicken is cooked through and the sauce is bubbling.
This recipe is from...
Recipes from this episode