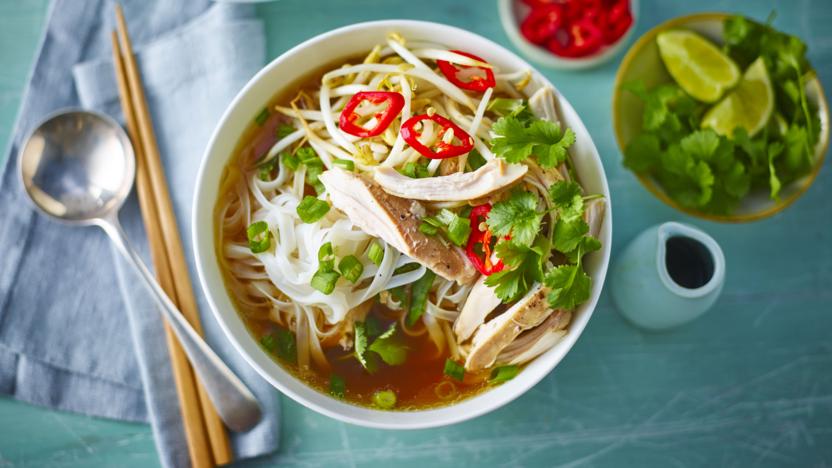 This slow cooker chicken noodle soup recipe makes a richly flavoured stock for its base you could use in other recipes, too.

Equipment and preparation: For this recipe, you will neeed a medium-sized electric slow-cooker. This meal provides 447 kcal, 58g protein, 43g carbohydrate (of which 3.5g sugars), 3g fat (of which 0.7g saturates), 1g fibre and 4g salt per portion.
Method
Place the vegetables in the slow-cooker. Stir in the five-spice powder, 1 litre/1¾ pints water and soy sauce until well combined.

Cut any string from the chicken, remove the skin by pushing your fingers between the breast meat and the skin and easing off the skin. Do the same with the legs, snipping off any skin around the wings or leg tips with scissors.

Place the chicken, breast-side up, in the slow-cooker, pushing it down among the vegetables. Season all over with salt and pepper.

Cover and cook on high for 4½ hours, or until the chicken is completely cooked through and very tender.

Drain the contents of the slow-cooker into a large bowl. Place the chicken on a chopping board and strip the meat from the carcass, thickly slice. Cover with foil.

Skim off the fat from the stock collected in the bowl using a large metal spoon. Pour the stock into a clean saucepan, stir in the fish sauce and place on a gentle simmer.

Half-fill a separate saucepan with water and bring to the boil. Add the noodles and cook until just tender, stirring regularly to separate them. Drain well.

Divide the noodles equally among 4 deep serving bowls. Top each with chicken, spring onions, beansprouts and coriander. Ladle over the hot stock and season with soy. Garnish with the remaining sliced chilli and lime wedges.
Recipe Tips
Tip 1: Removing the skin from the chicken prevents the stock from becoming too fatty, but you can leave it on if preferred.
Tip 2: If you haven't got your timings quite right and the noodles are ready too early, run them under the cold tap and re-heat in the hot stock for 30 seconds just before serving.
Tip 3: Any leftover cooked chicken can be chilled in the fridge and used in sandwiches and salads.