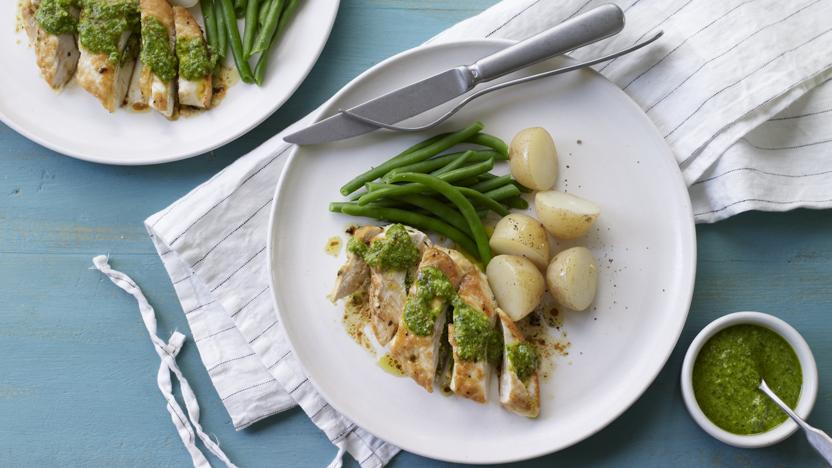 This chicken pesto recipe is fresh, light and full of flavour. If you don't have time to make your own pesto, buy a good-quality, ready-made brand.


Ingredients
For the chicken with pesto
To serve
Method
Preheat the oven to 180C/160C Fan/Gas 4. Spread the pine nuts on a baking sheet and bake for 2 minutes.

To make the pesto, put the basil, garlic, toasted pine nuts and a pinch of salt and the food processor or mortar, and grind to a paste. Tip into a medium bowl and, using a wooden spoon, mix in the Parmesan and pecornio. Pour in the extra virgin olive oil very gradually, beating continuously with a spoon.

Rub the chicken breasts with the lemon and season with salt and pepper. Make a slit in the side of each breast and insert a tablespoon or so of the pesto mixture. Secure with a cocktail stick.

Put the flour on a plate, season with a little salt, then dredge the chicken into the flour. Shake off any excess.

Heat the olive oil in a frying pan, add the chicken and cook for 6–7 minutes, or until a golden crust has formed. Turn the chicken over and fry for another 3–4 minutes. Add a little hot water and cook until the chicken is cooked through. Keep an eye on it and add a little more water if it starts sticking to the pan.

Transfer the chicken to serving plates and spread a little more pesto over each breast. Serve with new potatoes and green beans.
Recipe Tips
Store any leftover pesto in a screw-top jar, with enough olive oil to cover the pesto. It will keep in the fridge for up to a week.