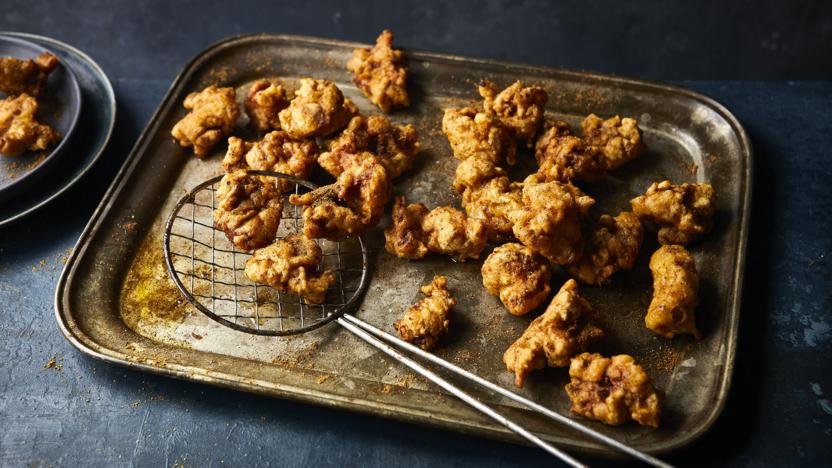 What's not to love about chicken pakoras? Maunika's crispy, spicy recipe coats tender bites of chicken thighs in garlic, chilli, fennel and chaat masala.
Ingredients
For the chicken
For the batter
Method
Blend the garlic and ginger to a paste with a splash of water. Set aside.

Crush the fennel seeds and black pepper to a coarse powder in a pestle and mortar. Combine with the kashmiri chilli powder, garlic and ginger paste, lemon juice and a pinch of salt in a large mixing bowl. Add the chicken, cover and marinate for 2 hours or overnight, in the fridge.

Pour the vegetable oil into a heavy-bottomed pan or a deep-fat fryer and heat to 180C, or until a cube of bread turns golden brown in 15 seconds. (CAUTION: hot oil can be dangerous. Do not leave unattended.)

To make the batter, combine the gram flour and cornflour in a bowl and whisk in about 90ml/3fl oz water a little at a time. Pour the batter in with the chicken and coat all the pieces.

Deep-fry the chicken pakoras, in batches, for 5–6 minutes or until golden-brown and crispy. Drain the cooked pakoras on kitchen paper and sprinkle with chaat masala. Serve warm.
Recipe Tips
These chicken pakoras can easily be prepared in advance. If you marinade the chicken overnight the pakoras will have bags more flavour, and you take a job off your list for the next day.