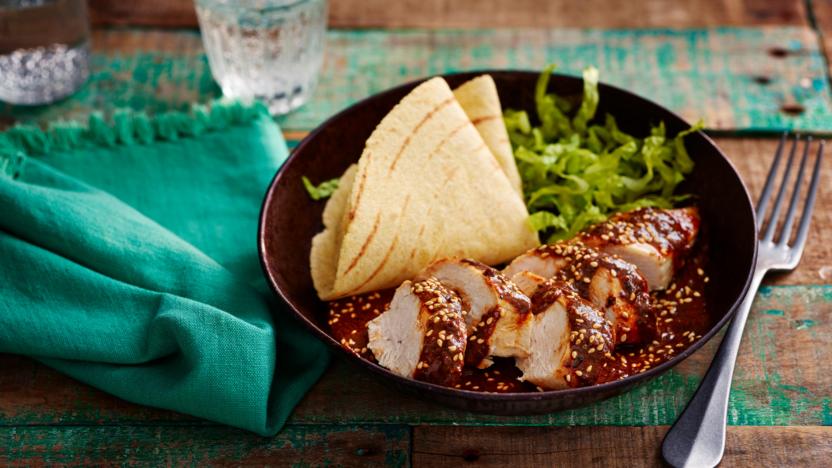 I have always had a problem with mole poblano, chilli and chocolate sauce, since I first tasted it in Mexico about 15 years ago and find it is often too sweet for my taste. Yet, I'm not unfamiliar with using chocolate in cooking, and a little in a rich red wine sauce works wonders. What I do like about mole poblano is the mixture of two dried chillies, mulato and pasilla, which gives the sauce a dark roasted fruitiness with just a hint of heat.
Ingredients
To serve (optional)
handful lettuce leaves
4 corn tortillas, warmed
Method
Toast the chillies in a frying pan on a high heat for about 20 seconds until fragrant but not burnt. Place them in a bowl and cover with boiling water for 20 minutes. Drain and set aside.

Place the same pan over a medium heat and toast the bread, 1 teaspoon of the reserved chilli seeds, sesame seeds, almonds, coriander seeds, peppercorns and cinnamon until fragrant but not burnt. Set them aside and blend to a powder when cool.

Heat 2 tablespoons of the corn oil in a separate pan and fry the plantain (or banana). Add the raisins (or currants), onions and garlic and fry until soft and sweet. Tip into a food processer with the drained chillies, powdered spices, cloves, oregano and 350ml/12fl oz of the chicken stock. Blend into a smooth sauce.

Pour the sauce into a clean saucepan with the remaining stock and the chocolate. Heat through gently for 15–20 minutes until the chocolate has melted and the sauce resembles a thick dark 'gravy'. Do not allow it to boil. If the mixture is too thick, add a splash of water. Taste for seasoning and add a little salt if needed.

Coat the chicken breasts with the remaining 2 tablespoons corn oil and season with salt. Place in a frying pan over a medium heat and brown on both sides. Reduce the heat and continue to cook for 10–15 minutes until cooked through and the juices run clear.

Meanwhile, toast the sesame seeds in a dry frying pan until brown.

Slice the chicken breasts diagonally and serve one breast per person, with the sauce spooned over. Sprinkle with toasted sesame seeds.
This recipe is from...
Recipes from this episode