Chicken and leek traybake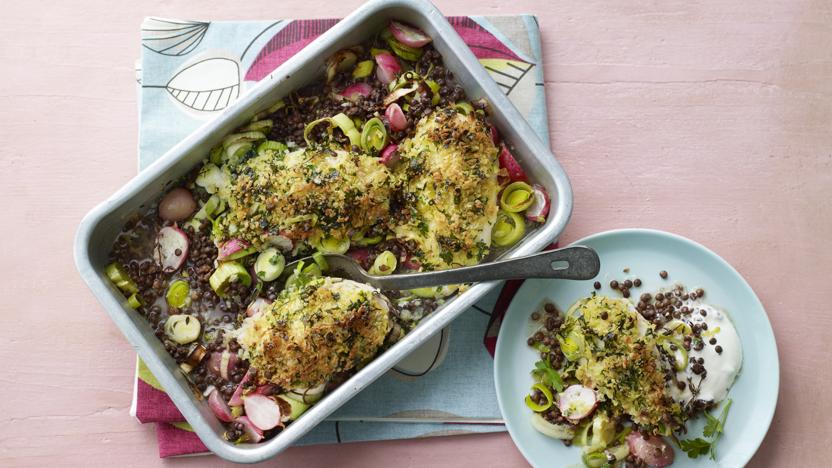 This chicken traybake smells really spectacular as it slowly cooks in the oven. The stock keeps the chicken wonderfully moist and tender and the roasted radishes add colour and crunch.

Each serving provides 473 kcal, 52g protein, 27g carbohydrates (of which 4g sugars), 15g fat (of which 6g saturates), 11.5g fibre and 2.1g salt.
Method
Preheat the oven to 200C/180C Fan/Gas 6.

Place the leek, thyme, garlic, lentils and radishes in a roasting tin, stir to combine and make four indentations in the mixture. Place the chicken breasts in the indentations and cover each breast with a teaspoon of mustard.

Mix together the breadcrumbs, parsley, olive oil and sea salt in a small bowl. Scatter evenly over the mustard on each chicken breast.

Carefully pour the stock into the tin, covering the vegetables and around the chicken breasts. Take care not to get any stock on the breadcrumbs.

Roast for 35–40 minutes, or until the chicken is cooked through and the breadcrumbs are crisp and golden. The chicken is cooked when the juices run clear with no trace of pink when the thickest part of the breast is pierced with a skewer. Leave the dish to stand for 10 minutes.

Stir in crème fraîche and season with salt and pepper. Serve immediately.