Stuffed chicken legs with mushrooms and cheese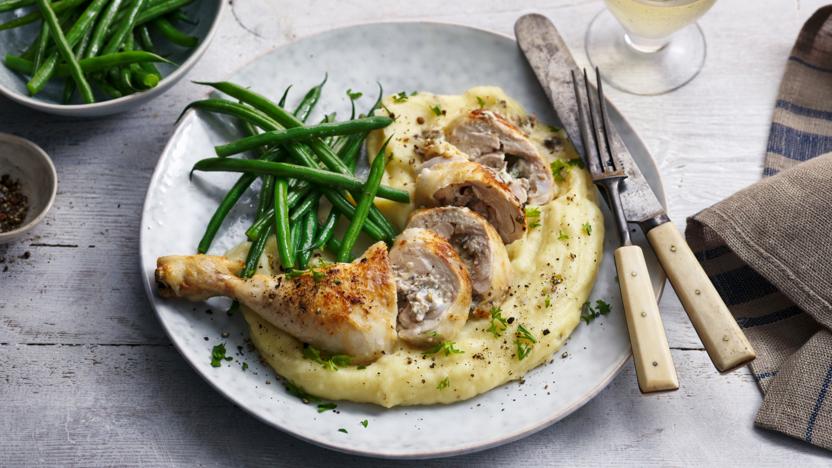 One of the highlights of my trip was going to Malbuisson in the Haut-Jura region and trying lots of the local Comté cheese in the local restaurants. The town is well worth a visit. I am not familiar with Alpine places in the summer but, as a restaurateur, I'm quite envious of the fact that it was packed out in June and would presumably be crowded with skiers in winter.

Equipment: You will need cocktail sticks.
Method
Heat 20g/¾oz of the butter and 1 tablespoon of oil in a frying pan over a medium heat. Add the mushrooms and garlic and fry for about 10 minutes until the liquid has evaporated. Season with salt and pepper and set aside to cool.

Mix the cream cheese, Comté, parsley and thyme in a bowl. Stir in the cooled mushrooms and season generously with salt and pepper.

Place a chicken leg skin-side down. Feel for the thigh bone with your fingers then, with a sharp knife, carefully cut down through the flesh either side of the bone. With the tip of the knife, cut around the bone and scrape away the flesh, leaving the bone as clean as possible. Twist the bone at the joint with the drumstick and, with scissors or a knife, cut out the thigh bone, leaving the drumstick bone in place.

Fill the cavity left by the bone with a sixth of the mushroom stuffing. Secure the chicken flesh around the stuffing using a few cocktail sticks, . Brush the skin with the remaining olive oil and season with salt and pepper. Repeat with the rest of the chicken legs.

Preheat the oven to 200C/180C Fan/Gas 6. Heat the remaining butter in a frying pan and brown the chicken legs. Transfer to a roasting tin and roast for 25–30 minutes, or until the chicken is cooked through. The chicken is cooked when the juices run clear with no trace of pink when the thickest part of the leg is pierced with a skewer.

Remove the chicken from the pan and add the chicken stock into the pan to deglaze. Scrape the pan to get all the flavour into the gravy.

Remove the cocktail sticks and serve with the gravy, mashed potatoes and cooked green beans.
This recipe is from...
Recipes from this episode