How to make chicken kievs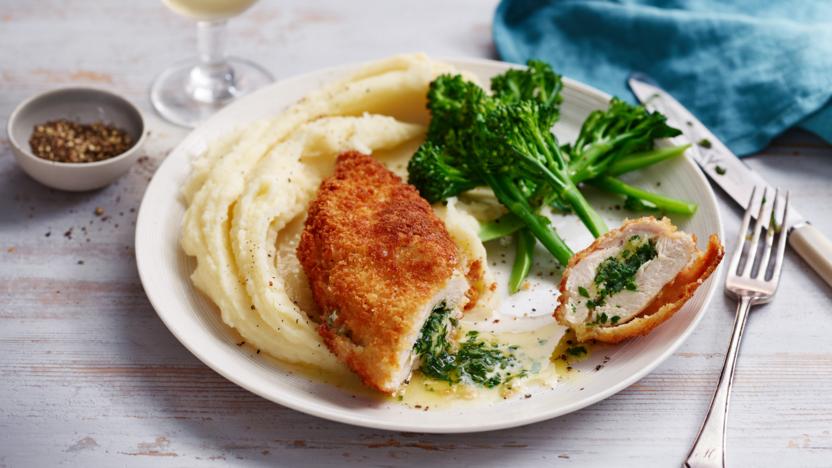 This chicken kiev recipe is seriously good. If you enjoy a little heat, add some dried chilli flakes to give a delicious kick.
Method
Beat the butter, garlic and parsley together in a bowl until evenly combined and season with salt and pepper. Transfer the butter mixture to a sheet of cling film and roll into a sausage shape. Wrap tightly in the cling film and place in the freezer for 15 minutes.

Meanwhile, butterfly each chicken breast by placing on a chopping board and using a sharp knife to slice into the thicker side, taking care not to cut all the way through, until you can open it out like a book. Place each opened chicken breast between two sheets of cling film and bash with a rolling pin until flattened.

Cut the frozen butter into four pieces. Put one on each chicken breast and wrap the flesh around the butter to fully enclose it. (If you like, mix a little flour with water to create a paste to help stick the chicken in place.) Put the chicken in the freezer for 15 minutes.

Preheat the oven to 200C/180C Fan/Gas 6.

Put the flour, eggs and breadcrumbs in three separate bowls. Carefully coat the chicken breasts first in the flour, shaking off the excess, then in the beaten egg and finally coat in the breadcrumbs.

Fill a large pan with oil to a depth of 2cm/¾in and place over a medium–high heat. Test the oil is hot enough by dropping in a small cube of bread: it should brown in 30–45 seconds. (CAUTION: hot oil can be dangerous. Do not leave unattended.) Carefully place the chicken in the pan, seam-side down, and fry for 6 minutes, turning now and again, until it is golden and crisp all over. Remove the chicken using a slotted spoon and transfer to kitchen paper to drain.

Place the chicken on a baking tray and bake for 12 minutes, or until cooked through with no traces of pink and the juices run clear. Serve immediately with mashed potatoes and green vegetables.
This recipe is from...
Recipes from this episode