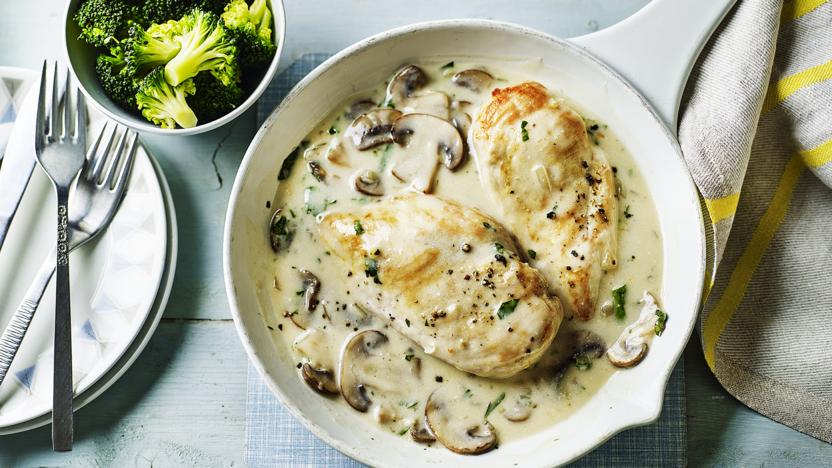 This creamy chicken and mushroom dinner for two is really satisfying, but surprisingly low in calories.

Each serving provides 391 kcal, 58g protein, 10.5g carbohydrate (of which 7g sugars), 11.5g fat (of which 6g saturates), 7.5g fibre and 1.1g salt.
Method
Heat the spray oil in a non-stick frying pan, add the chicken breasts and fry for about 10 minutes, or until well browned on both sides. Set aside.

In the same pan, add a little more oil and fry the onion for 2–3 minutes, or until translucent. Add the garlic and fry for another 1–2 minutes. Add the mushrooms and fry until golden-brown. If they start to stick, add a little stock to the pan.

Return the chicken to the pan and stir in the stock. Bring to the boil. Cover with a tight fitting lid, lower the heat and simmer for 12–15 minutes, or until the chicken is cooked through. Season with salt and pepper.

Meanwhile, cook the broccoli in boiling salted water until tender.

Stir the crème fraîche and parsley into the sauce and serve immediately with the broccoli.
Recipe Tips
To find out more about type 2 diabetes and get information on how to reduce your risk of this mostly preventable disease, read our article.