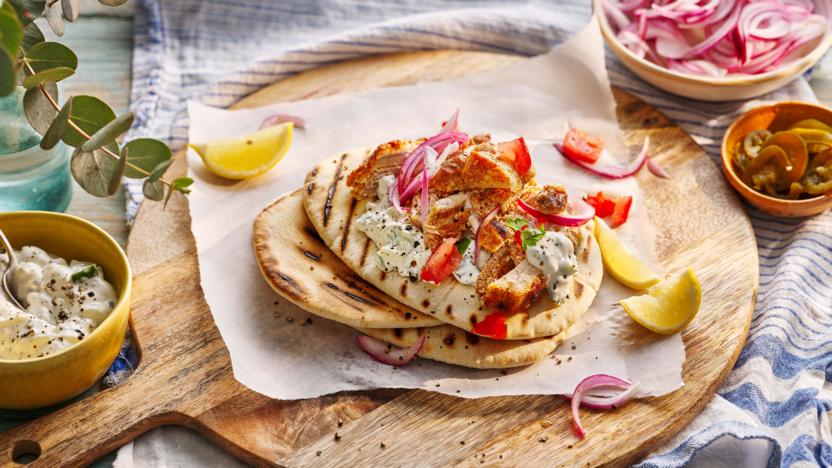 A spiced yoghurt marinade makes this chicken gyro tender and full of flavour. The name gyro comes from the Greek word for 'turn': meat is cooked on a vertical spit which turns in front of a heat source. For this version, you don't need a spit: cook the chicken on a couple of large skewers, and if the weather isn't looking bright enough for a barbie you can cook it in the oven.
Method
Mix together the yoghurt, garlic, olive oil, juice of 1 lemon, all the spices and ½ teaspoon each sea salt and pepper. Place the chicken thighs between two sheets of greaseproof paper (you'll have to do this in batches) and hit them with a rolling pin or the base of a frying pan until they are all 1cm/½in thick. Place the chicken in the marinade and mix together well. Cover and place in the fridge overnight.

Thread the thighs onto two large skewers (you can use one if you like, but two makes it more stable) or a spit. They should be stacked tightly enough to keep each other in place but not so compactly they take ages to cook.

Place the skewers on the barbecue, not too close to the coals, and cook for 45 minutes–1 hour, turning a couple of times. The chicken is cooked when the juices run clear when pierced with a skewer in the thickest part. Once the meat is cooked, drizzle the gyro with olive oil and squeeze over the juice of the second lemon, then place the gyro closer to the coals for a final 10 minutes so it chars evenly.

To cook in the oven, preheat the oven to 190C/170C Fan/Gas 5. Lay the skewers on a foil-lined roasting tray, drizzle with olive oil and roast for about 1 hour, turning over halfway through, or until cooked through, golden and charred at the edges. Drizzle with olive oil and squeeze over the juice of the second lemon for the last 10 minutes of cooking.

To serve, carefully stand the skewers upright on a chopping board and slice the meat onto hot pitta breads. Top with tzatziki, thinly sliced red onion, tomato and a sprinkle of oregano. Add some pickled chilli and serve with lemon wedges.